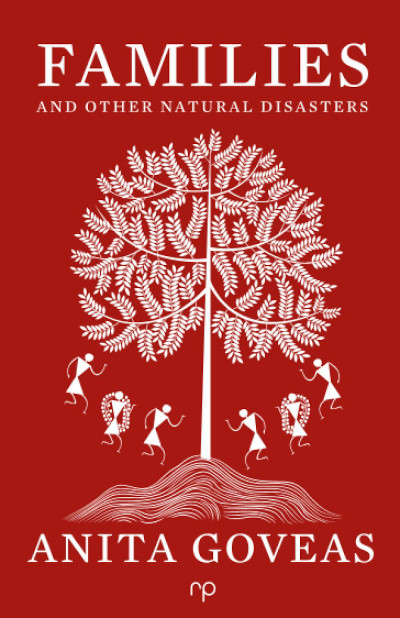 At first glance, the five sections of Anita Goveas' collection appear elemental. A closer look rewards with the dawning understanding that the categories are types of natural disaster, with the final two a little more tongue in cheek. Fire, Water, Wind, Love and Families each warn of the emotions contained within, or, more, likely, poised to spill over.
The opening sentence of a collection is crucial in setting the tone for what's to come. Goveas does this fearlessly, dropping into our laps the unflinching line: "There's an ancient prophesy that you'll die by volcano." What Really Gets You Is the Rising Heat is a story that speaks of the expectations we fight against to forge our own path, even if that does turn out to be directly to the same volcano's mouth our parents marked for us.
The titles form a poetry of their own, with the second tale warning us from the off that A Pilgrimage Can Be One Way, before enfolding us in 'packing' and 'to do' lists that contain humour, love and heartache within deftly rendered brevity. It's the kind of hermit crab flash that hints at tireless hours of crafting.
Goveas talent for packing is clear in Defeating The Demon, in which she sums up a character and situation in a single artfully loaded sentence: "She's my favourite Aunty who's-not-really-an-Aunty, with her love of puns and her dangly earrings, and her husband Erish was my favourite Uncle-who's-not-really-an-Uncle, with his moustache as big as his laugh, so I get why him dropping dead knocked the wind out of her."
You can immediately see and hear these bold characters, which makes the shock of Aunty Tripta's grief all the more real. Flavours and fragrances are ingredients in this flash's scenes: "maida, pista, cardamom", "crumbling samosas and sticky moti pak", providing a savoury sweet aftertaste to themes of loss, disappointment, betrayal and a pinch of mischief.
In Part Two, we enter the arena of mythology, with Various Histories of Sea Serpents. "Wriggling on your hard, narrow bed, sometimes you dream of twisting around frantically until you can hold your tail in your mouth."
It's a lesson in how much can be said without overtly spelling it out. Gorgeous.
Finding Venkat immediately had me entranced with its perfect blend of ordinary and eerie: "It's difficult to know what the difference is between a family tradition and a routine bordering on insanity, but every summer we (the Agarwal family) go to the Oceanarium Bournemouth. Our number ebbs and flows."
The poetry in that final sentence is spine-tingling.
Amid the humour of clownfish, penguins and family memories, Goveas serves up the salt-sting of tragedy.
Loss rears throughout, often striped through with laugh-out-lines that keep you entangled. The characters are defiant, but always craving love. Such as Antonia in Let's Sing All The Swear Words We Know who tattoos her barbies with indelible ink, seems to entreat slaps, and watches the boys as they watch her, but doesn't "have the words to make anyone stay." It's a war cry that's also a lament.
In the final section, Families, Goveas opens with Because Someone Else Dances, pulling us into the frustrations of trying to find yourself in a prejudiced world: "Why keep the rules of people who thought you were a brown-eyed body with long black hair?"
Goveas is an author who seems to love playing with form, setting a family drama against a game of Uno or slotting micros together into precarious towers, designed by their writerly architect to fall with maximum impact for devastation. Some lines glitter with such force they feel like windows shattering.
There's beauty here, amid wonder and comedy, all capturing an impression of the tricky steps we have to take in growing up, yet underneath it all rumbles an unignorable unease, an earth-echo of a tsunami in Goveas' tale Warning Signs. There's a sense we're being urged throughout, as in the final word of that story, simply "Run."
Families and Other Natural Disasters by Anita Goveas is published by Reflex Press.
What are you reading? I'd love to know. I'm always happy to receive reviews of books, art, theatre and film. To submit or suggest a book review, please send an email to judydarley(at)iCloud.com.