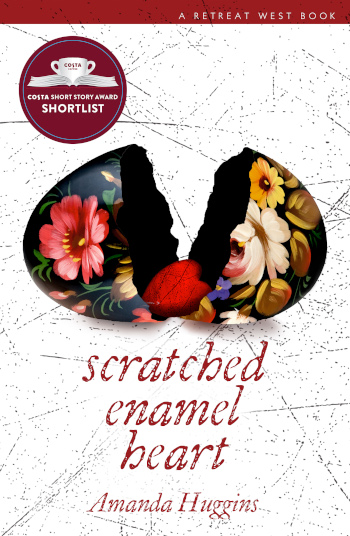 There's a conciseness to Amanda Huggins' writing that makes me think of a stitch being drawn taut – her words pull the core of you to the core of a story until you gasp for breath.
Her Costa Short Story Award shortlisted tale 'Red' uses crimson dust to create a vivid, slightly melancholy landscape where a lone stray dog provides the hope, and a memory of better times provide the drive to reach like a scrawny sapling for light. Like Rowe, the protagonist of the preceding story "Where The Sky Starts', Mollie needs to leave the place she's supposed to call home or risk being trapped in a life that could suck her beyond sight of all hope, drive and light.
Huggins has a vivid mastery of words that whips up a setting you can virtually walk into, and uses that mastery to construct scenery that weaves the story's mood around you: "Mollie hated the dark, brooding weight of the house, the trees so dense they held a part of the night's heart within them even when the sun shone."
It's poetically precise and powerful.
One of my favourites in this collection is 'A Brightness To It', a short story written with such compressed surety that the emotions sprang out at me like uncoiled springs. From the moment the unnamed protagonist "slid back behind one of the heavy curtains" at a glitzy event, I felt I knew her and wanted to know her better.
Throughout the collection, Huggins demonstrates her flawless control of narrative, seeding in details that build up tension without giving away too much too soon.
In 'Violet, Flint, The Softest Blue', Huggins evokes the emotional power of objects: "Every night she took out the things that anchored her."
The things themselves matter less than the ripples they cast, which alter with the experiences of protagonist Phoebe, not least her orange scrunchie, used to secure the bills left by the men who visit her mum.
Many of the stories, including the title tale 'Scratched Enamel Heart', speak of people displaced for one reason or another. These slices of insight into refugees' experiences (by which I mean not just those fleeing homelands, but those escaping homes) churn up empathy and a deep impression of humanity.
Huggins weaves a shiver of fairytales into most of her tales. In 'A Potential Husband', it's a floorboard that chirps like "a frightened bird", while in 'Someplace Else" a cave swirled about with warm breezes has a "rough-carved window" for an eight-year-old to peer through.
In a sense, a window is what Huggins is carving into each of the worlds she has created – worlds as three dimensional and passionately complex as the one we inhabit. Her characters live, breathe and grow, and reading them, we do too.
Scratched Enamel Heart by Amanda Huggins will be published by Retreat West Books on 27th May and will be available to buy here. I was sent a copy by the author.
What are you reading? I'd love to know. I'm always happy to receive reviews of books, art, theatre and film. To submit or suggest a book review, please send an email to judydarley(at)iCloud.com.