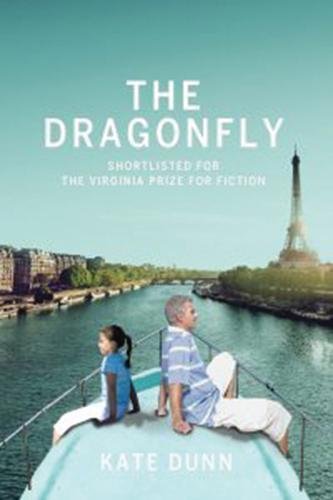 A father incarcerated for killing his wife. A grandfather ousted from solitude into the care of his granddaughter. An angry nine-year-old, a toy monkey and a boat slicing through the waterways of France.
Got that?
Kate Dunn's set-up seems as much a surprise to her characters as to readers, seeking a genre to hook her book onto. As we meet Colin, an English man who has buried his loneliness in boatbuilding, there's a curious comfort in not quite knowing where we're going.
Colin holds himself separate to us so that it takes a while to get a sense of him and the great, multiple heartbreaks that separated him from his son years before. This aloofness is no error in judgement from Dunn, however, as the pages drift by and you find yourself warming to Colin and his awkwardness.
The story really comes to life when Delphine, the afore-mentioned angry nine-year-old, and her precious soft toy Amandine. Fizzing into the plot, Delphine is full of a barely contained rage that seems only appropriate given the death of her mother Charlotte and subsequent imprisonment of her father Michael.Frostily unimpressed by the prospect of spending her summer on a tiny boat with an old man she's never met before. Wonderfully tempestuous and unpredictable, Delphine hauls her possessions with her in a huge quantity that threatens to capsize the compact boat. Asked by Colin to leave some things behind, she is steadfast. "It is not possible."
This statement seems initially to be Delphine's fallback response, as well as being the perfect allusion to the grief seething below her surface, weighting her down visibly any time Colin reminds her, sometimes inadvertently, of her two great losses.
The possessions also serve as the closest thing Delphine now has to a home – offering an illusion of security. As time goes on and she and Colin grow closer, the items reduce in importance, though perhaps not sufficiently given the catastrophe that's waiting round the corner.
Interspersed with the waterside scenes are spells on remand with Delphine's father Michael, and his own challenging negotiations for space with cellmate Laroche. Both on the Dragonfly and in the cell a single questions bounces against walls and ceiling – did he really do it? And if he didn't, why is he saying he did?
This is a different kind of psychological thriller – one with the emphasis on family relationships full of heart. The rhythm may be slower, but the rewards so much richer.
Just breathe in this scene between Colin and his granddaughter.
"Ah, Colin…"
He was briefly charmed by the way that, with her French accent, she could turn his name into the bars of a song; he liked the lilt and swoop of the syllables as she spoke them, "Colin…" For a moment he was entranced to be her reference point, the person she showed things to and shared them with."
In it's most basic form, this is a story with a damsel in distress (Delphine) and her knight riding, or rather, chugging, in to rescue her (Colin). On a more complex level this is a story about all the nuances and potential consequences of love.
Read it. I promise you will be won over, by Delphine, by Colin, by Michael and even by Laroche, but most of all by the Dragonfly, a day boat proving that with determination, just about anything is possible.
The Dragonfly by Kate Dunn was shortlisted for The Virginia Prize for Fiction and is published by Aurora Metro Books.
What are you reading? I'd love to know. I'm always happy to receive reviews of books, art, theatre and film. To submit or suggest a review, please send an email to Judy(at)socketcreative.com.