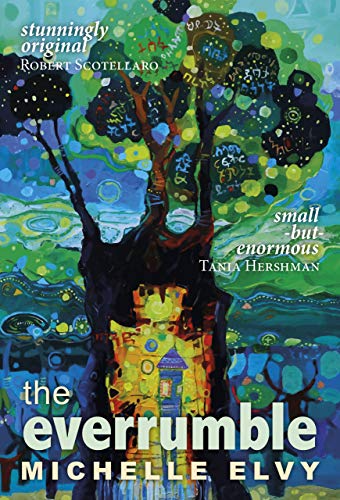 At the age of seven, Zettie stops speaking and concentrates instead on listening to the world.
Described as a small novel in small forms, this book is far larger than the sum of its parts. I know people who devoured it in a single indulgent sitting, but for me it was so quenching  that I drip-fed it to myself – page after page, moment by moment. It offered me a place to return to for peace, quietude and stillness, and now that I've read it from cover to cover, I know I'll return again.
Delivered in a series of flashes, served up with plenty of space to hold the words and ideas safe, this is a book of contemplative joy.
I often see sentences as strings of interwoven colours, but in the case of the everrumble, it was a far more textural experience. Grains danced over my bare arms as I absorbed the passages. I felt tendrils of thread waft over the nape of my neck and the polish of seashells against my toes. Most of all, perhaps because of the blanket that Zettie takes refuge beneath at the beginning, which "light enters like tiny diamonds", throughout the ever rumble I saw the stitch-work of crochet – that alchemy of yarn, deft fingers and hook, and the hushed focus that comes with that skill (which I do not have).
In other words, author Michelle Elvy has somehow conjured a multi-sensory experience through her writing, and, even more powerfully, compressed sensations onto the page that will eke into your everyday life. Sitting here typing this, I feel the pleasure of contact with each key, and a delight in the warmth of this sunlit room, while the soft sounds of bells chiming and traffic passing drift through the window to keep me company.
Weaving in dreamscapes with glimpses into a long life, set against geography and literary musings in the form of notes on books that have captured Zettie's attention, the everrumble is a glorious odyssey of one woman's exploration of connectivity. Even her name is notable, borrowed as it is from her aunt – Little Zettie being a nickname bestowed on her by her brother when she was small.
Through her silence, Zettie opens up herself to the riches of Earth's sounds, from the human, to the natural, to the unnatural, to "the everrumble. The heartbeat of every living creature."
And in other ways, she is utterly normal. She gets crushes, falls in love, earns a living, bears and raises children. It's her contentment, and her intense empathy for the most part, that is extraordinary. But she is mortal, and human, for all her communing with nature – a detail powerfully examined in a segment in which she imagines reading to her children.
In an era when climate change is accelerating at a dizzying pace and governments seem ever more disconnected both from their nations and the environment they're impacting, the everrumble is a welcome pause, and a reminder: to listen, to savour, to live well.
the everrumble by Michelle Elvy is published by AdHoc Fiction and has been longlisted for the Guardian Newspaper's Not-The-Booker-Prize. Buy your copy.
Seen or read anything interesting recently? I'd love to know. I'm always happy to receive reviews of books, art, theatre and film. To submit or suggest a review, please send an email to judydarley(at)iCloud.com. Likewise, if you've published or produced something you'd like me to review, get in touch.