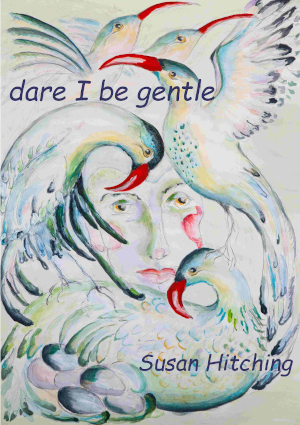 Susan Hitching's debut poetry collection, dare i be gentle, alights on moments glimpsed and spins them into observations that feather outwards to encompass entire worlds.
A line of bras on a washing line offer up the soar, sway and surge of garments, and perhaps people, pegged out over boglands, while 'The Shirt You Left Behind' becomes a lover's tender lament. Storytelling weaves its spell in 'DIY Wizard', deftly evoking the quirky magic of Dylan Thomas' Under Milk Wood, in lines such as "The screeching of owls is heard/ in his dreams as an orchestra of power tools…"
Like Thomas, Hitching has a knack of hooking the glory in the overlooked and the extraordinary grace in the apparently commonplace.
Details are harnessed and hoisted into prime position, such as the 'Little Red Shoes', laboriously and triumphantly buckled onto the wrong feet.
In fact, our well-intentioned mistakes are celebrated throughout. One of my favourites in the collection is 'Stealing From The Arboretum', a perfect micro story in 20 vivid lines. Hitching describes the 'stolen forest' with humour and affection – a gleeful, rueful anecdote aglow with wit and vivacity.
Word are harvested and arranged with a delicacy that imbues more than is written, creating expanding ripples of understanding. In 'Feral Shadows', it's the vulnerability of the infant lying "peeled/ between feathered and cottony sleep', while the act of pincering "the dissolving/sherbet lemon/ from between my fizzing teeth" in 'Kissing At Barking Station', crows of the delights of a rebellious attitude, regardless of age.
Dreamier, briefer poems appear in clutches like hedge-snagged sheep's wool, with larger font and plenty of clean white space to flutter against on the page. Evoking the County Kerry scenery that Hitching lives amidst, these poems are deft sketches of time and place. 'lone tree' is an ode to a solitary stalwart:
lone tree
you survive
a symbol
drawn in the land
catching the moons
on shannon's hill
where
reed and wire
play for you
all        year    long
In 'Tonight I Feel Uneasy', Hitching harnesses whispers of folklore, mentioning the shadowy "long tailed furries" "while rats and hares in guises/ rustle the gorse and grasses, and "a monstrous cow" that "coughs an echo"." Eerie and beautiful.
Hitching's poems invite us to stray from signposted footpaths and explore the sun-dappled, mud-fringed shadows. In the quiet pleasures of her words I glimpse hints of Sheenagh Pugh's  http://www.skylightrain.com/poetry-review-afternoons-go-nowhere-by-sheenagh-pugh/ playful poetic prowess, while Hitching's talent for the more painterly arts gleams through in colourful strands.
These are poems of that strive to, and succeed in, capturing the wild beauty of the south-western toes of Ireland, while shining up the wonder to be found in the mundanity of everyday life and all its glorious oddities and follies. Hitching is a writer, and a human, with a passion for her surroundings, in all its forms, and through her gaze we can learn to delight anew.
dare i be gentle by Susan Hitching is available to buy from: https://www.facebook.com/dare-i-be-gentle-102586724779527/
What are you reading? I'd love to know. I'm always happy to receive reviews of books, art, theatre and film. To submit or suggest a book review, please send an email to judydarley(at)iCloud.com.