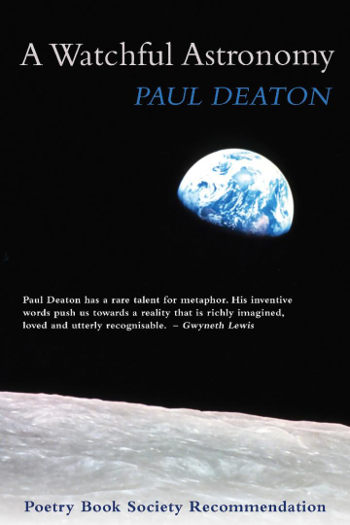 In his first full-length collection from Seren, Paul Deaton eases us into the depths of his life, awakening us to the complex constellations of families. Carried through months and years, we take in moments of sorrow, wonderment and self-depreciating humour that seems to sum up both the experience of one individual in a moment, and of the scope of human existence on Earth.
The key relationship here is Deaton's uncertain navigation around his late father, but his sister, mother, friends and rivals populate his journey, along with the moon, weather systems and unexpected flurries of flora and fauna. These latter, from Starlings' "tall-tree trumpeters" to Sea Bream Dinner's "wholesome, silver sea thing" reveal a quiet observance of the natural world that borders on reverence.
Despite casting his net occasionally into the sky above, to me Deaton's poems resonate so powerfully because they are rooted in the earth, drawing our attention to the cumulative marvels of minutiae that could seem mundane in other hands. It's here that Deaton's fluid metaphors gleam. A reference to the central heating's "dull milk shed moan" in Late Hour sketches parallels to other lives we could have lived, while Voices draws back the curtain on what comes after as well. The loss of his father ripples throughout, most poignantly for me in DIY: "He turned up at my house too, when I hadn't asked." The recognition and faint irritation of unuttered love is spine-tinglingly palpable.
Throughout the collection, momentum builds as Deaton urges us to contemplate the unstoppable force of time and mortality. Our planet rotates, seasons change and we age, seemingly without mercy. Yet in the midst of this, plants and wildlife flourish, offering echoes of beauty and wonder that lift Deaton's poetry and illuminate the gloaming.
At his launch in Bristol, Deaton described his poems as "an attempt to make the darkness visible." He certainly achieves that, but at the same time this poet reveals the light shining amongst shadows, and what could be more human than that?
Read my review of Paul Deaton's Black Night.
A Watchful Astronomy by Paul Deaton is published by Seren and is a Poetry Book Society Recommendation. Buy your copy from Amazon.
Read my review of Black Knight by Paul Deaton.
Read my review of In Her Shambles by Elizabeth Parker.
Read my review of Sax Burglar Blues by Robert Walton. 
What are you reading? I'd love to know. I'm always happy to receive reviews of books, art, theatre and film. To submit or suggest a book review, please send an email to judydarley(at)iCloud.com.
SaveSave
SaveSave
SaveSave