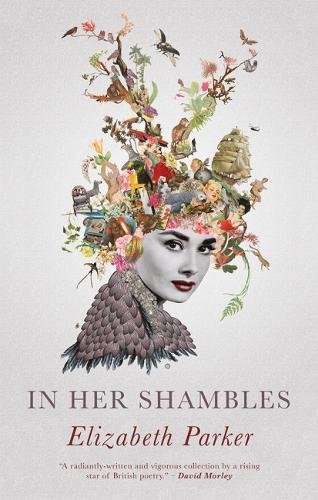 I recently had a conversation with poet Elizabeth Parker in which I mentioned that post-it notes are a reviewer's greatest ally. They're a tool that can work brilliantly, but also have their fallibilities. With In Her Shambles, I ended up needing almost as many post-it notes as pages, as every poem contained lines to call me back, and make me want to re-absorb their power.
Parker is a master of shimmering last lines, drawing you quietly to a crescendo – a moment of thrill or unease. In each case, the final few words lie in wait, ready to tilt you off kilter, steadied only by the surety of Parker's pen.
In Lasagne, the making of a meal represents a deeply rooted love affair, in which the ending stanza speaks volumes: "I peg pasta/ between fingers and thumbs/ lay it down for him."
In Lavinia Writes, a eulogy of sorts to Shakespeare's ill-fated character from 'Titus Andronicus', that ultimate declaration is a shout of rebellion, as the silenced victim, her tongue cut out, finds a way to share her anger by unpicking the stitches of her wound: "I tear more, free more/ until I am fluent."
Elegantly unexpected word pairings heighten the readers' awareness of the world Parker inhabits, where, with the precision of a botanist annotating slides, the poet describes sensations and experiences with tender familiarity.
In Rescues, she paints a portrait of her father through an itemised list of the creatures she's witnessed him save, from pipistrellebats to his trio of daughters. With each we're given a sense of strength and compassion, portrayed deftly through descriptions like "black fruits he gently unpeeled/ to show us wings laced with limb."
A passion for family and friends bobs surfacewards throughout, along with a respect for personalities from literature and history. Parker seems drawn to strong women who have been badly wronged, as well as to the stubborn savagery of the natural world, from brambles splitting bin bags, to the rivers she describes as representing members of her inner circle: "My aunt's river grazes its banks/ and widens./ Rocks are loosed to salt her river."
Sensual and elemental, this is a skilful collection that murmurs of emotions heaving just out of sight and on the edge of hearing. Parker seems to have no qualms about exposing her own vulnerabilities, which makes her work all the more breathtaking. In Her Shambles is a celebration of women, families and nature, astonishing in its originality while offering up disarmingly recognisable views.
Through reading it you may learn to see your own surroundings with fresh eyes. But the magic of this collection is that it's likely you'll catch a reflection of yourself, and find yourself wondering how, exactly, this poet knew.
In Her Shambles by Elizabeth Parker is published by Seren. Buy your copy from Amazon.
Read my review of Antinopolis by Elizabeth Parker.
Read my review of A Watchful Astronomy by Paul Deaton.
Read my review of Sax Burglar Blues by Robert Walton. 
What are you reading? I'd love to know. I'm always happy to receive reviews of books, art, theatre and film. To submit or suggest a book review, please send an email to judydarley(at)iCloud.com.
SaveSave