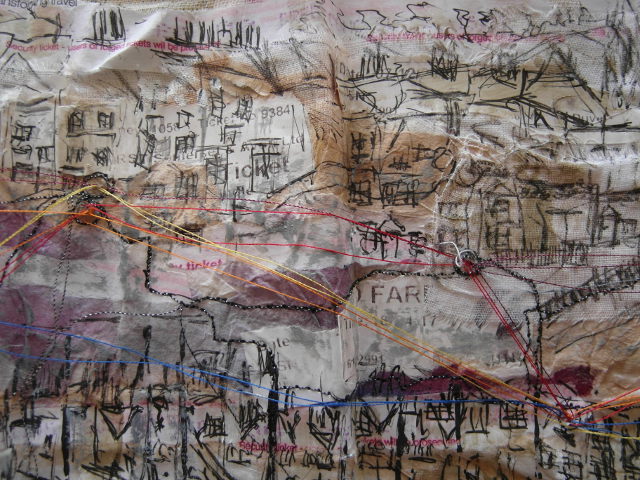 I discovered Susi Bancroft's distinct blend of sketch and sew at the RWA's exhibition Drawn (on until 7th June 2015). The energy in her 'Handwashing in Hospital' triptych intrigued me enough to contact her to find out more about her artistic endeavours.
The textile artist told me that one of her earliest memories is of her mother knitting – "the clicking sound of the needles, watching a piece grow: a doll's vest, a cardigan; the sound of the fire in the grate whilst she worked and I watched."
It sounds deliciously domestic, and fuelled Susi's own interest in craft. "I still have a doll's coverlet I embroidered when six or seven years old."
In particular, Susi relishes the thought of continuing her family traditions of "making by hand, through generations. That inspires me."
One such piece is an embroidered tablecloth, begun by her maternal grandmother "including stitching all the forget-me-not flowers" and added to both by her mother and herself. "I will pass it to the children in my extended family to continue," she says. "The idea is that the viewer can't tell whose stitches they are looking at."
It's a poignant idea, and one that captured Susi's attention strongly enough to make her develop her skills further through "a mix of practical hours of stitching and drawing." She has a background in both academic research and practical skills work such as a City and Guilds Diploma, and has worked in education and research as well as being a practising artist.
Creating art using fabric and threads feeds Susi's urge to express herself. "I can reveal what I want to, connect and relate, and also reserve something," she says, "I love the tactile quality, as well as colour, texture, the movement, rhythm and repetition."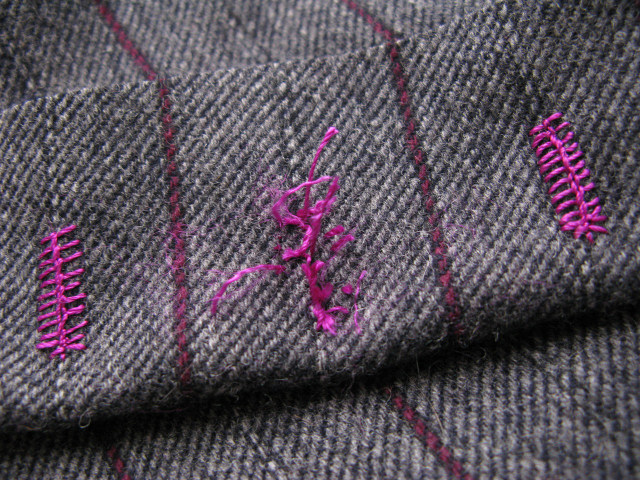 She refers me to the artist statement on her blog, where she explains eloquently, "I treasure the sense of touch – the dialogue between fingertip and brain and its power to subtly release and evoke connections, memories, narratives. Art making for me is about the play between theories in my head, drawing, fabric and thread, and thinking through my hands."
The connections she mentions are a driving force, as she seeks to link past and present aspects of her family both with metaphorical and literal threads.
"I also work with deep issues – death, bereavement, pain – and an essential part of my work is the conversations I have about these matters whilst sharing the work," she says. "I integrate meditation and breathing techniques whilst working too – that's an area that fascinates me."
One particular artwork for an exhibition with the group she belongs to, Brunel Broderers, was inspired by Beatrix Potter's The Tailor of Gloucester. "As a child I thought it was one hundred and twenty buttonholes in the story, and it was still a surprise – as well as a relief – to find it to be 'one and twenty' when I decided to handstitch the buttonholes for this exhibition!" she exclaims. "I wanted to highlight tailoring skills – a buttonhole is hardly ever examined by the wearer, but so skilled in the making. I also wanted to highlight issues around fast fashion and working conditions. My Suited exhibition piece was a sketchbook of samples of my attempts at tailored buttonholes and a series of projected images of these attempts and struggles…"
The name of the piece, No More Twist, comes from the detail in the story that one buttonhole remains unfinished by the mice until the tailor's cat reveals the 'twist' (presumably thread) that he has naughtily hidden, an apt line to marry Susi's textile art to the tale!
She says: "Stories inspire me, yes, particularly children's literature and illustration."
Find more of Susi's work at her boostitch blog and on the Brunel Broderers website. Their next Exhibition is at Nature in Art near Gloucester in August 2015.
Are you an artist or do you know an artist who would like to be showcased on SkyLightRain.com? Get in touch at judydarley (at) iCloud.com. I'm also happy to receive reviews of books, exhibitions, theatre and film. To submit or suggest a review, please send an email to judydarley (at) iCloud.com.