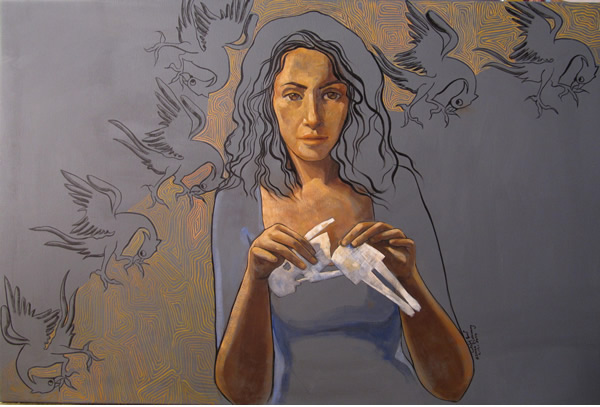 Delicate paper dolls strung across a scene instantly bring childhood to mind – such a simple act of folding and oh-so carefully cutting to create countless people!
In the hands of artist Asmaa Elnawawy, however, a more sinister impression forms, as she draws on the fragility of paper dolls to explore concepts of feminism. These figures are easily torn, and once they lose their pristine beauty they'll be cast away.
"For me, the paper dolls in my paintings represent the concept of feminism," Asmaa says. "They form a connected string of figures, which refers to the continuity of life."
Asmaa is from Egypt, where the paper doll is used in traditional ceremonies to ward off the evil eye "We puncture the paper doll with a needle to prevent negative forces taking hold." So an apparent act of violence against these paper women is actually intended to be protective. It's a disturbing thought, given how much domestic violence is dealt out to 'helpfully' curb a woman's behaviour.
Throughout her work, Asmaa explores "the stories of women in my society – what they're suffering and what they hope for. I enjoy the art of Frida Kahlo, Swiss artist Ferdinand Hodler, Gustav Klimt and the Pre-Raphaelites."
Asmaa's influences are evident in the richness of her works, painted in acrylic and oil on canvasses with intricately rendered backgrounds. In fact, the patterns on these ornate wallpapers each represent something significant for the viewer to puzzle out.
"The symbol of Mother Earth in American civilisation resembles a maze and refers to the idea of receiving and giving," she explains. "I included it because in Arabic society women are seen only in the role of giving. The wild bird represents the negative forces faced by women as targets of racism, sexism and extremism, today and throughout the ages."
The prohibitive road sign, she says, is the easiest to grasp. "Everyone understands what it means because it is a modern symbol and is international – it mean stop! This is dangerous place to enter! I used it to emphasise that we should not enter the circle of negative power – we should keep safe the paper dolls that symbolise the continuity of life."
In becoming an artist, Asmaa has followed in her father's footsteps. "It's his fault!" she exclaims cheerfully. "He is a painter and teaches art too. I was raised in a house where you find Dostoyevsky novels and Chopin music alongside our great Arabic writers and musicians."
These early years equipped Asmaa to later join a fine art faculty far away from her home. "It enabled me to become the artist I dreamt of being, and I'm now a professor at that faculty."
Art is an intrinsic part of Asmaa's life and personality. "I need painting in order to express myself and secure my sense of inner peace," she says. "Before I begin a painting I spend time in a research phase, which is my favourite part in creating artwork. I am fond of finding the symbols that imbue my paintings with meanings for others to make sense of. They make my paintings into mysteries to be solved."
Much of Asmaa's work is driven by the way by Egyptian society perceives the role of women, and the way other societies regard Arabic woman. "I have one sister – she is a doctor and she lives in England," Asmaa says. "I visit her a lot and I have also lived in Italy, so I've seen both sides of this. I think there's an idea that Arabic women are always suffering more than other women, and while this is true in some ways, I also contest this – I believe women all over the world face the same problems to varying degrees."
Asmaa also uses her artwork to examine the conflicts within her own personality. "In Egypt I'm regarded as an innocent woman with a religious look who has strange liberal ideas. I'm a feminist who is happily married and consider myself one of the luckiest women on earth. In foreign societies and even within Egypt's artistic community I constantly face the question: 'How can you be so open-minded and yet look so conservative?' In my art, and in my own way, I'm letting the world know that I'm here, and telling other people who are, like me, made up of contradictions that they're not alone."
Find more of Asmaa's work at www.asmaaelnawawy.com and www.artromnetwork.com.
Know an artist you'd like to see showcased on SkyLightRain.com? Give me a shout at judy(at)socketcreative.com.