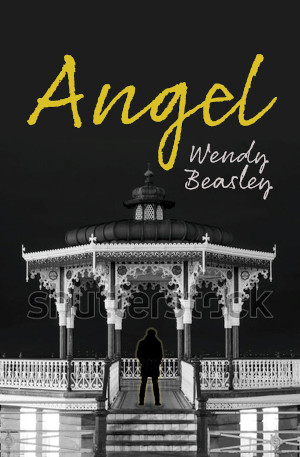 What happens when you hit rock bottom? And what could then prevent you walking into the waves and ending it all?
In Wendy Beasley's unflinching novel Angel, a night-time moment of impulsive selflessness gives protagonist Lydia the drive not only to stay alive, but to rediscover the things that make life worth embracing.
Having grown up in care, Lydia has already surpassed her own expectations by getting a place at Brighton University and making plans to become a teacher, but when she meets enigmatic Leo and is swept into a love built on possessiveness, her early years of trying to achieve invisibility in foster homes making her less easily able to stand up to his increasingly controlling behaviour.
The opening chapters of the novel are aren't an easy read, as Leo takes control of every aspect of Lydia's existence, trapping her in a nightmare marriage.
"I wasn't quite sure which part of 'good wife' I was still required to learn. I cooked, I cleaned, I tried hard with my appearance – aiming for neat and tidy without any hint of cheap or tarty – and I really tried to please him in every other way, even though this was becoming less achievable every day."
Things spiral further into darkness when Lydia gets pregnant and Leo becomes violent. Her attempt to leave results in a bloody scene, but seemingly sets Lydia free to return to Brighton. Traumatised by her abusive relationship with Leo, Lydia goes to Brighton's pebbly beach thinking only of ending her life, but instead finds herself cast in the role of saviour a she rescues a small white dog, Angel, from drowning. That act and  becoming Angel's caretaker shifts Lydia's perspective while lightening the book's tone, giving both Lydia and the readers hope. You might want to applaud with relief when Lydia declares that "the new Lydia wouldn't be such a wimp. I stood up, squared my shoulders and lifted my head as if to prove how determined I was."
Before long, Lydia finds the courage to reapply to her university degree, gets a job at a bookshop in The Lanes (the author's affection for Brighton shines through here), makes a meaningful human connection in the form of Matthew, the bookshop's owner, and embarks on a hopeful fresh start.
Where many novelists would have opted a straightforward 'happily ever' ending at this point, Beasley chooses to lead us down a darker route, a new threat and Lydia's greatest challenge yet.
Lydia's determination to stay alive elevates her from the 'damsel in distress' scenario, making her the heroine rather than the victim of her story. Beasley artfully paints in aspects of her past to help us understand Lydia's emotional responses, and even includes the backstory of both her persecutor and her hero so that none of her characters are completely evil or good, merely humans shaped by different experiences and decisions.
A suspenseful exploration of difficult themes with a splash of spy thriller thrown in, at the end, it is clear this is a story about connections – to loved ones (both animal and human), places and ambitions that help to forge the choices we make.
Angel by Wendy Beasley is published by Victorina Press. Buy your copy direct from the publisher here.
This book was given to me in exchange for a fair review.
What are you reading? I'd love to know. I'm always happy to receive reviews of books, art, theatre and film. To submit or suggest a review, please send an email to judydarley (at) iCloud.com.