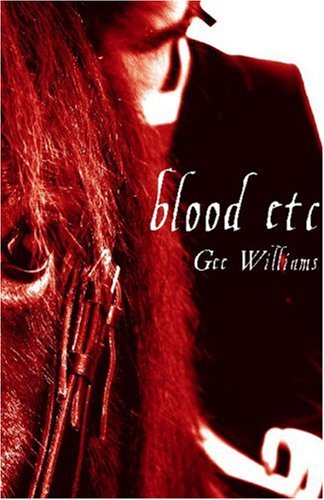 Set in the strange 'neither here nor there' borderland of Flintshire between England and Wales, the stories of Blood Etc examine human relationships, love, lies, regret and hope.
Gee Williams paints rich images of the landscape and lives that her characters inhabit. In Morfa she describes the weather as a living thing that "squatted, huge and immovable, on the too-close horizon."
Her sentence are often unexpectedly vivid, capturing scenes effortlessly as she describes a character's eyes "widening in their crepe nests", while a woman walks inside "off the lawn, the emerald slivers falling from her dagger-heels."
Then, the moment you relax into a tale, Gee takes your breath away with a simple revelation of human nature, ruthlessly revealing the deep, vast truths the rest of us carry unconsciously within us, never recognising them until she throws them before us, murmuring look at this.
Reading the stories is like becoming secret visitors into people's homes, watching them at their most vulnerable moments, seemingly unaware they're being observed. It's a wonderfully raw feeling, as we are presented with the facets of lives, of populations, and see hints of our selves within them.
In 'All The Rest', a man realises that what his brother has lost is something he himself never experienced, while in 'Residue', a young girl discovers her dad had a brother she's never met. In other tales, a man waking from a coma discovers the life he's trying to get back to no longer exists; a woman mourns the incineration of her sheep following the foot and mouth epidemic; a father is distracted by the devastating collision between a horse and a car.
Gee says "People and the promises they make and break provide the themes for Blood Etc", but far more than being about the promises we speak, the book seems to be about the ones we never make at all, about the pieces of our past we never voice, but which hover in the background waiting to step forward.
Dreams, hopes and disappointments mingle in the tales, and far more happens between the lines than in the written words. This way of seeing and sharing is a rare talent that sets Gee Williams apart and aloft from many of her contemporaries, carrying us with her.
Blood Etc by Gee Williams is published by Parthian and is available to buy from Amazon. The short story collection was shortlisted for the English-language Wales' Book of the Year award 2009.
To submit or suggest a book review, please send an email to Judy(at)socketcreative.com.