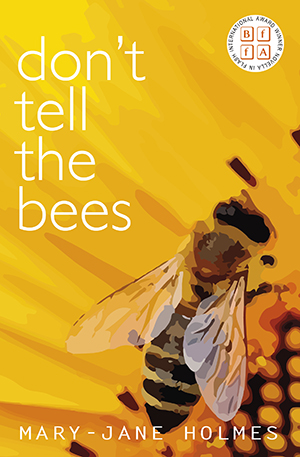 In this powerfully layered and tightly stitched novella-in-flash, author Mary-Jane Holmes weaves a world where nature waits in corners and on the edge of hearing, barely out of sight.
Our protagonist, known as 'No-more' after the refrain her mother was rumoured to have repeated after her birth "over and over again", is as spirited as the wild creatures who share the landscape she roams. The opening story deposits her in our lap as her mother leaves her "howling in twitch grass by the river" so that she survives only  because her father finds her stumbles back to the loom, leaving her father Maurice to tie her to his back so that her waking moments are spent "in quarry and field" with his blood pulsing against her own.
Although rooted in "the marshlands from Damvix to Gruelle" in France, there's a sensuous texture to the novella that evokes folk tales from all parts of the world where people are in rhythm with the land.
Holmes draw us ever deeper into a place where we can feel the cool mud under our feet, and when No-more's beloved father is hooked by a tip of a weather-vane he is repairing, we fly with him, caught on the same breeze, so visceral is the writing.
The bees themselves, delicate and dauntless, capable of ferocity and yet humming always in sonorous tones, sum up the savagery and beauty of No-more's domain. The description of the honey made me crave its taste, especially where it stands in for love: "When her mother saw her, she smiled and offered her a brim of bee-bread from a dipper shaped like a wand and tasted sweeter than anything she could have ever wished for." Dreamily delicious.
Poetry buzzes through the lines: goat shears are used to cut strands if grief is cut from hair, a radio crackles "like cherry wood burning", and there's a terrible vulnerability in the act of her mother removing apron and leather finger-thimbles. The details of the items that make up their lives – the tools and necessary garments, add a richness that rewards rereading.
When No-more yearns to gather with the girls "at the camp" who serve the men working the new motorway, our skin quivers with the touch of the velvet scrap they use as a curtain and the songs the roundels they sing "like lullabies but sadder." No-more's naïve imitation of them is almost unbearably poignant as she "landed her hands on the bony outcrops of her hips."
Like the finest fairytales, darkness threads through the light, and every caress threatens a sting. But No-more has agency and her own avid curiosity. Numbers entrance her as another riddle of the world that ripples outwards to the horizon and beyond.
Don't Tell The Bees by Mary-Jane Holmes is published by Ad Hoc Fiction and is available to buy from bookshop.adhocfiction.com.
This book was given to me in exchange for a fair review.
What are you reading? I'd love to know. I'm always happy to receive reviews of books, art, theatre and film. To submit or suggest a book review, please send an email to judydarley(at)iCloud.com.