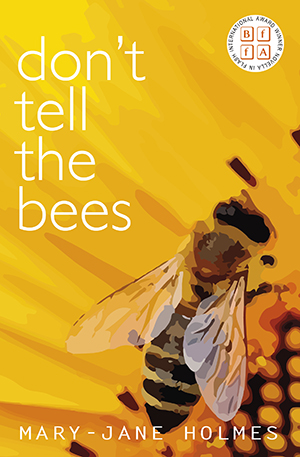 In this powerfully layered and tightly stitched novella-in-flash, author Mary-Jane Holmes weaves a world where nature waits in corners and on the edge of hearing, barely out of sight.
Our protagonist, known as 'No-more' after the refrain her mother was rumoured to have repeated after her birth "over and over again", is as spirited as the wild creatures who share the landscape she roams. The opening story deposits her in our lap as her mother leaves her "howling in twitch grass by the river" so that she survives only  because her father finds her stumbles back to the loom, leaving her father Maurice to tie her to his back so that her waking moments are spent "in quarry and field" with his blood pulsing against her own.
Although rooted in "the marshlands from Damvix to Gruelle" in France, there's a sensuous texture to the novella that evokes folk tales from all parts of the world where people are in rhythm with the land.
Holmes draw us ever deeper into a place where we can feel the cool mud under our feet, and when No-more's beloved father is hooked by a tip of a weather-vane he is repairing, we fly with him, caught on the same breeze, so visceral is the writing.