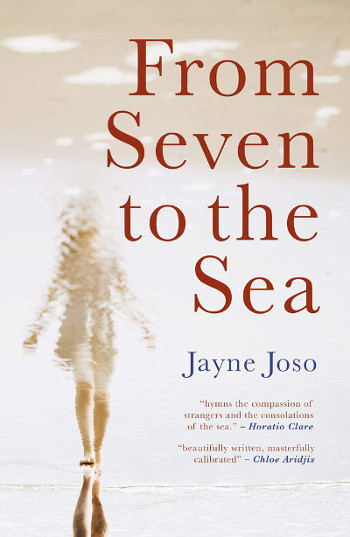 My overwhelming impression of Jayne Joso's novel From Seven To The Sea is of glittering sunlight that blinks off every surface until you can only see your surroundings through the shards of your own eyelashes. Beautiful, but brimming with half-glimpses of potential treachery.
Esther is an exceptional child, gifted with a view of the world muddled through intoxicatingly with joy, music and hope. She has a talent for making allies of every person or dog she encounters.
Until, that is, she meets the man.
"The man, it would transpire, had a long list of 'rules', a long list of 'dislikes'… things that caused him 'displeasure' and on top of this, a list of 'hates.' (…) But more than any of these, he hated on sight, and would come to detest, Esther, just turned seven."
The man is, unfortunately, her new stepfather. As her seventh birthday falls into disarray and she's swept to a new home, we're buoyed by Esther's resilience even as each act against her happiness, usually perpetrated by the man, wounds us.
As wrongfooted as she is to have been uprooted, Esther's natural buoyancy leads her to the many havens in her neighbourhood, from a room full of African artefacts that become her pals, to a den she creates under trees in the garden, to the wondrous place where sea meets shore.
But with school soon to start again, Esther seems to have been frozen in time, a detail emphasised by the fact she appears to have stopped growing. It's as though even her body is working to keep her safe by keeping her small and inconsequential.
Joso captures all the anxiety and dread of a first day at a new school in a single perfectly drawn paragraph. "Somehow in her mind she felt held back, as though by the wind, as though the elements intend she take a different route (…) Ahead, children poured in through the school gates, and down a slope towards the brown school building. She came up after them with the timidity of a ghost, and squeezed her hands tight together to check that she was real."
Throughout it all, Esther's vivid imagination and affability make her a delight to spend time with. Author Jayne Joso deposits us beneath her skin in a land of synaesthetic richness, where music swells with colours and flavours. "She could hear the instruments come into play as though she had bidden them to do so, and she chuckled, for actually they came all by themselves. (…) Streams of pink and lilac coiled like ribbons, yellow, then mandarin orange. She sensed the taste of sugared almonds. Then raspberries."
While the grown ups she could have expected to depend on for safety (including her stepfather and teacher) become along the worst of her bullies, she finds solace in the company of strangers, including Pete, an old sailor living on a boat on the harbour who has a skill for perfectly peeling an orange.
Such a level of trust and intrigue is inevitably laced with peril, and Joso adeptly uses our own misgivings against us. As adults proffer warnings without explanation, threats hover on the edges of Esther's adventures.
The cruelty that comes Esther's way made me furious with the small-mindedness and ignorance of the grown ups in her life. At times Esther's mistreatment makes the reading almost unbearable, but thanks to the lyricism of Joso's writing and the indomitable character of Esther, this is far from misery fiction. A balance is finely wrought throughout to keep us fixed to the page, with Esther's determination and 'sunshine spirit' evoking new pleasures even in the grimmest passages.
Esther is a dauntless, dazzling protagonist you can't help but take to heart, trapped in circumstances that are far from extraordinary yet equipped with an innate passion for life that could teach us all a thing or two.
From Seven To The Sea by Jayne Joso is published is published by Seren Books and available to buy from Amazon. 
Read Jayne Joso's guest post for SkyLightRain.com on creating compelling child characters.
Seen, read or written anything interesting recently? I'd love to know. I'm always happy to receive reviews of books, art, theatre and film. To submit or suggest a review, please send an email to judydarley(at)iCloud.com.