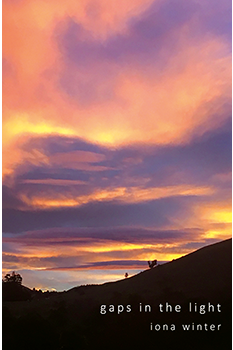 There's a rare exhilaration that comes from beginning to read a book crammed with written works that you can't hope to pigeonhole, and to choose instead to dive nose-first and headlong into, trusting the words to catch and anchor you where they will.
Poetry, memoir, flash fiction, sociological and psychological and anthropological study, myth, dream… In Gaps in the Light by Iona Winter, it all builds together into a tidal wave of impressions, sensations and emotions that you'd do well to surrender to and allow it to sweep you away.
Scattering in the Te reo Māori language, where water (wai) and song (waiata) are separated by three letters, and the word for ground is the same as the word for placenta (whenua), Winter ensures that divisions between who and where we are blend as well. The relationship between our bodies and nature are intertwined.
Likewise, the gap between fact and fiction are muddied in the most natural way, for fiction often provides the means to share our most honest emotional truths. If this thing didn't happen to the author, that doesn't mean it happened to no one, and the strata of feelings are undoubtedly authentic, regardless of what seeded them.
In 'Hush', the beauty of Winter's writing provides an undercurrent that tugs at your core as you read, from the "gull with a gammy leg" to "the garden that smelled like her grannie", to the doctor "with a gaze teetering on sadness."
This teetering sadness resonates in other tales, occasionally presenting as wry, eye-rolling humour while lamenting our idiocy in treating "our mother like shit for eons and nowadays can't stop complaining because she's finally retaliating." ('Lost symphonies').
In 'Grannie', Winter illustrates the resilience and frustrations of old age, using the parallels presented by nature: "Bending my knuckles of fractured glass, I listen to a bumblebee slap itself senseless on the window. The magnolia out the back has limbs like me. (…) Time is no longer my privilege."
And in 'The look of the sea about him', she writes: "Grandad would say. 'Remember our wi is sacred, and your moemoea (dreams) are in my blood.'"
The sense of interconnectivity is tangible and breathtaking.
Love and vulnerability thrum throughout, in musings on the bloodiness of childbirth to the child standing in the rain in a t-shirt "far too big for her" to witnessing a nest becoming "unhitched from a tree to fall soundlessly in the wind" in the moment after a murmured, skirted conversation about a diagnosis. The message seems to be that we are what we experience, but also what we see. It all seeps beneath our skin and into our bones.
The brutality of loss through suicide recurs with heartbreaking regularity, rippling with the grief and anger of those left behind. In 'Non-sense', there's a fury to the word choices: waves 'gouge the shore", he's gone to "that place of selfish choices."
And 'Learned It' reminds us that we all have capacity for violence, and that our ancestors did too: "Plenty of them laid lands and families to waste." It's a battle cry challenging us to look at ourselves straight on and acknowledge the darkness that shapes us. It's almost a relief to read something so honest in a time when social media demands we only show our best side.
This is a book about acceptance, and about exploration – of ourselves and our relationship with the world, the beautiful and ugly alike. It's a call to embrace ourselves, and then buck up, carry on, and live. As Winter writes in the lines beginning and finishing 'Moteatea', "tangi te mapu / I must draw breath."
Gaps in the Light by Iona Winter is published by Ad Hoc Fiction and is available to buy from bookshop.adhocfiction.com
This book was given to me in exchange for a fair review.
What are you reading? I'd love to know. I'm always happy to receive reviews of books, art, theatre and film. To submit or suggest a book review, please send an email to judydarley (at) iCloud.com.