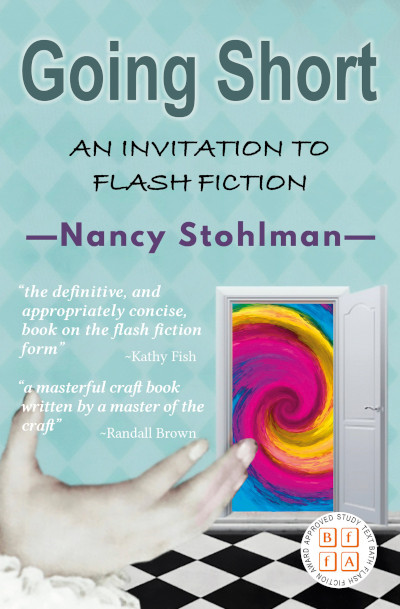 This book is the perfect cheerleader to see you on your first steps of the flash fiction journey. If you've been playing in the flash arena for a while, Going Short may well be the coach to take your flash skills to the next level.
With a subtitle of "An Invitation  To Flash Fiction", Nancy Stohlman's guide is a warm welcome, with chapters arrayed in bite-sized segments where every word earns its place. She leads by example, explaining the definition of flash fiction as you might to a non-writer friend in a pub (or, more likely these days, over Zoom), laying out word count (under 1,000) and purpose "to tell a story even if much of that story is implied."
Immediately, I'm bubbling with questions. How do we know how much to tell and how much to imply? How can we trust the reader to be on our wave length and understand the unwritten?
In Part One: Writing Flash Fiction, I reach a paragraph titled 'The Blank Page' and am immediately gripped. Stohlman's concise sentences brook no arguments as they command you' to let go: of clever tricks, of descriptions, of our need to explain – all things I struggle with in my own writing. "Let silences be potent," she urges, "don't rush to fill them."
It's advice that sounds almost languid until you reach the next page, titled 'Urgency.'
"Flash fiction is driven by narrative," Stohlman writes, drawing comparisons with prose poems and vignettes driven by imagery and emotion. "Flash fiction has an almost desperate need to tell a story before it's too late."
Stohlman's writing has an urgency all of its own, powering your imagination as you read. In the chapter titled 'Implicating the Reader', she seeds in prompt after prompt, laying a foundation of questions for you to explore. "One writer sets his stories in places like airports or hotels so he doesn't have to describe the setting," she tells us, before adding, "But if the airport is filled with goats (…) you better describe that." Why is the airport full of goats? I want to read that story, which means I also want to write it.
The chapter on dialogue was a wake-up call. I've carried out interviews as a journalist for years, diligently transcribing quotations word for word, but when it comes to fiction I rely on impressions. Stohlman advises us to become shameless eavesdroppers. "Most of us thing we already know how people talk until we start listening. (…) Once you start to pay attention, even two people from the same city will sound different."
In other words, don't get complacent, get out there and do the work your flash fiction characters deserve. In fact, this is a mantra Stohlman reinforces throughout – don't let fear impede your editing process, and don't shirk your responsibilities to your creation. Good flash fiction takes work, and rework.
Insights abound – constraints (word counts, time limits) serve as flash fuel; fairytales are an early flash form; a lacklustre first draft is fine (you don't have to show it to anyone). You'll even discover where the word 'cliche' comes from. You'll learn the power of shuffling a story's sentences, how to halve, and then halve again to see what survives the sculpting process, and how carefully ordering a flash collection has the power to enhance individual tales. From six-word stories to found forms, there's plenty to whet your appetite for experimentation.
Quite simply, Going Short is the brilliantly concise guide to flash fiction writing you didn't know you were waiting for.
From practical tips in the 'Sculpting Flash Fiction' section ("Save that original draft in a separate folder and do the surgery" aka editing "elsewhere"), to inspiring examples, to the Appendix of 100 flash nano prompts to get you started, this fun, easily digestible contains everything you need to know to become a world-class flash fiction writer, and have a blast along the way.
Going Short by Nancy Stohlman is published by Ad Hoc Fiction and is available to buy from bookshop.adhocfiction.com.
What are you reading? I'd love to know. I'm always happy to receive reviews of books, art, theatre and film. To submit or suggest a book review, please send an email to judydarley(at)iCloud.com.