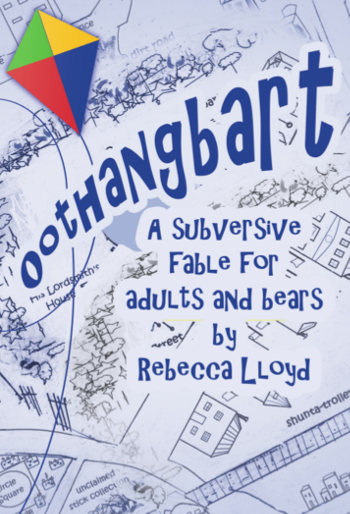 Donal Poseidon is an ordinary citizen, living an ordinary life. Each day he gets up and goes to work and each day he does the things expected of him, without grumbling or questioning the way things stand in the town of Oothangbart. But he's also a fellow with a secret yearning, a quiet curiosity about the world beyond the town's gates, and a tendency to daydream without meaning too.
And in a place like Oothangbart, all these things spell trouble.
In Oothangbart: A Subversive Fable For Adults and Bears, Rebecca Lloyd has created a world that seems both fairytale perfect and disturbingly controlled. Rules include 'No slumping or giving the appearance of dejection.' The greatest insult is to be referred to as "an irregular fellow". The jobs carried out by the majority of citizens are stultifying dull and even pointless. Indeed, pointless seems to be the key word here, as notable citizens – the top fellows – are allowed privileged access to The Escalator that goes nowhere but up to a flight of steps they then need to climb back down. The exercise seems full of pomposity, yet utterly pointless.
For Donal, however, life is full of meaningful possibilities. For one thing, he has developed a serious crush on sweetfellow Pearl Offering, and has written her a letter he's never yet managed to post. Each day he visits the bakery where Pearl works and buys two bagels, just for the pleasure of a few moments in her company. He doesn't even like bagels.
The novel is brimming with humour as Donal regards the absurdity of many of his fellow citizens and their need for rules, but at the same time a thread of seriousness runs through it all. These are fellows without the freedom to think or act other than in the ways their society deems appropriate. Whispers of a magical place called Bristol ripple through the air, but none dare discuss it openly.
Beautifully written, the tale unfolds slowly, giving Donal time to mull things over as he encounters them while the readers jostle behind. We follow as he asks important questions such as: Who is the mysterious Postal Fellow who apparently lives in the box with a ventilation slit at the top? What will happen when Donal's ossifying bagels fill up his garden shed? What's with all the fish? And does the city of Bristol actually exist?
Lloyd's Oothangbart may be a fantasy, but it's riddled through with uncomfortable truths. In even the most liberal civilisations, conformity is a survival technique, and freedom of thought a risk. Step into a more dictatorial regime, even one that doesn't label itself as such, and individuality becomes a far more obvious danger. It's a concern that Lloyd has managed to seed throughout a novel about bagels, kites vs flags and true love.
Oothangbart: A Subversive Fable For Adults and Bears by Rebecca Lloyd is published by Pillar International Publishing.
Other books by Rebecca Lloyd include The View From Endless Street and Halfling.
What are you reading? I'd love to know. I'm always happy to receive reviews of books, art, theatre and film. To submit or suggest a book review, please send an email to Judy(at)socketcreative.com.