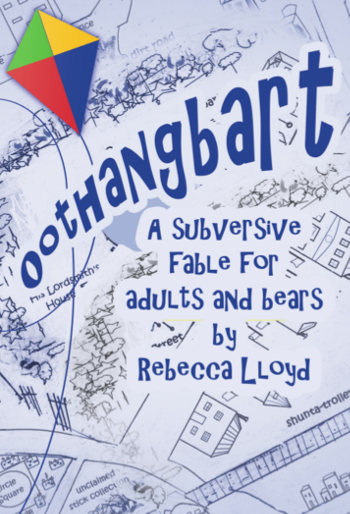 Donal Poseidon is an ordinary citizen, living an ordinary life. Each day he gets up and goes to work and each day he does the things expected of him, without grumbling or questioning the way things stand in the town of Oothangbart. But he's also a fellow with a secret yearning, a quiet curiosity about the world beyond the town's gates, and a tendency to daydream without meaning too.
And in a place like Oothangbart, all these things spell trouble.
In Oothangbart: A Subversive Fable For Adults and Bears, Rebecca Lloyd has created a world that seems both fairytale perfect and disturbingly controlled. Rules include 'No slumping or giving the appearance of dejection.' The greatest insult is to be referred to as "an irregular fellow". The jobs carried out by the majority of citizens are stultifying dull and even pointless. Indeed, pointless seems to be the key word here, as notable citizens – the top fellows – are allowed privileged access to The Escalator that goes nowhere but up to a flight of steps they then need to climb back down. The exercise seems full of pomposity, yet utterly pointless.