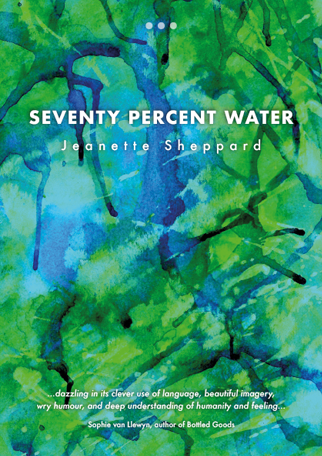 Jeanette Sheppard's debut flash fiction collection brims with sensitively perceived, reflective stories that creep beneath our surfaces, reminding us how drops of water can change a landscape, physically, aesthetically and psychologically.
These compact stories embrace big topics. The shifting boundaries of awareness linked to ageing and dementia recur throughout, like ripples spreading outwards, inexorably.
'Rattle and Spin' is a beautiful story of a woman who is growing unrooted from her sense of self, yet retains her dignity. The tale flows with steady momentum from line to line, guiding 'you' to treat this woman with the respect she has earnt and discover how much more she is than what you take in at first glance.
"Go on, sit in her chair. She will pull up a seat, make you laugh until your mouth swells ready to burst."
The last sentence is heartachingly tender.
'How to Enter Another Galaxy' is another instructional piece. This time, the subject in for exaltation are those annoyingly futile calls to corporations, while you, the caller, have one hand gripping the phone and the other juggling a cat. Naturally, the intergalactic being you need to speak to is never the one on the end of the line.
Sheppard has a talent for making mundanity comical and movingly tragic by turns. The scenarios she paints are ones most of us already know or will undoubtedly experience, evoking the empathy of human relatability. These are universal undercurrents springing from deeply personal wells.
In 'Drawn', one of my favourites in the collection,Sheppard fishes deftly in her other pool of expertise, easing a single emotion-packed scene into focus. Through her character's sketches, we discover a preoccupation bordering on obsession: "As her hand moved the marker, she drew a figure with a head tilted to the left – him, his tilt. Twenty-seconds to go – she started the next figure. Same head, same tilt, so she put a hat on him". Jeanette's observational skills are key here, depicting the tiny details about us that others may overlook, but which we ourselves cannot repress without them bubbling up at the most unexpected, and inconvenient, times.
'How to Draw' is a story of accepting failures and continuing to persevere regardless. Told in neat, numbered chunks, it sucks you in until you can't help but cheer the protagonist (another 'you') on with each incremental success.
Other tales quiver with promise and threat, alluding to vulnerabilities that Sheppard trusts you to take in your hands. With a distinct awareness of the time stretching ahead and behind, she shines up the briefest moments as though arming you to illuminate shadows far in the future. 'Watermelon' is one of the most tantalising of these, an exquisite prose poem that perfectly illustrates longing. The skilfully crafted final sentence seeds darkness into an uncertain memory you may crave and mourn in equal measure.
Sheppard's stories are not of wars, famines or dazzling global adventures, but instead celebrate our internal odysseys – the myriad hushed disasters and triumphs few of us ever shout about, even when they rock us to the core. By capturing the familiar in words, on paper, she's giving us permission to applaud every humble ingredient that makes up our own existence. It's satisfying, heartening, startling and deeply reassuring, but more than that, it's recognition that our lives, and their minutiae, matter. To me, that's truly exceptional.
Seventy Percent Water by Jeanette Sheppard is published by EllipsisZine.com.
What are you reading? I'd love to know. I'm always happy to receive reviews of books, art, theatre and film. To submit or suggest a book review, please send an email to judydarley (at) iCloud.com.