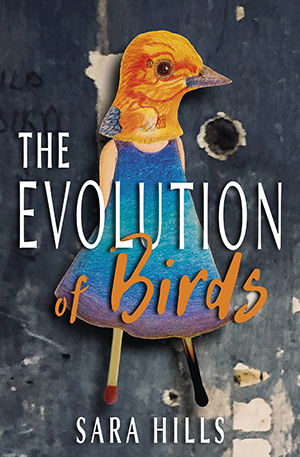 As fans of Sara Hills' flash fiction have learnt to expect, the author's debut collection The Evolution of Birds is crammed with crisp, heart-glancing prose that will leave you at times reeling, and often desperate to give the narrator a hug.
The title story tells of a group of girls at Survival Camp learning to whittle and fire arrows, a skill many of the characters in the following stories could benefit from. In three compact pages, Hills captures the savagery of girls, where reluctance to kill (a pigeon, though more is hinted at) results in goading and scorn.
"With shaking hands, she held her bow taut and took aim. Her arrow was off by a foot. When the lucky bird rose up in flight, we weren't far behind."
Hills excels at duality in tales, slanting her word choices with care so they can be read in multiple ways depending on how you hold them up to the light.
Talking of words, Hills demonstrates a visual, visceral way with language that ensures you can feel her sentences on the tips of your fingers and in the back of your throat. Pre-teen protagonists have "breast buds like bottle caps", a pink dress is "frilled-lizard ugly."
In 'Finders Keepers', the ravages of parenthood are summed up in little over two pages: "When the baby coughs, you measure your youth in medicinal, syrupy spoonfuls. When it's teary, you weave a blanket from the pink striated fibers of your heart."
Hills also understands the power of a good flash title, often crafting ones that do a significant amount of a tale's heavy lifting. One great example, 'Why an Ambulance Was Called to The Roadhouse on 17th Street After I Had Flown', suggests in the most compact and precise way possible what happens after the story's end.
Gritty realism is offset by surreal metaphors, with hippos on buses and dresses trimmed with tongues that "lick red weeping welts up my neck and across my chest."
Many of the stories explore the perils and vulnerability of young girls, and more than one. including 'Always Down a Dirt Road I'm Walking', provide alternate versions that offer hope as well as a clarity that society has changes it can and must make. This is deep-cutting, arresting writing, yet often presented in a playful tone. The humour and beauty makes the messages easy to absorb without the reader losing their enjoyment of Hills' exquisite craft. Hermit crab flashes (where a story nests inside a structure like an instruction list), such as 'How to Knit a Better Mother', showcase the author's skill and imagination.
Most striking of all is Hills' dizzyingly adept lyricism. I highly recommend you read some of the shorter pieces (some are a single paragraph long) aloud to hear the rhythm of prose that rivals poetry in its musicality. Moving, thought-provoking and immensely powerful.
The Evolution of Birds by Sara Hills is published by AdHoc Fiction. Buy your copy.
This book was given to me in exchange for a fair review.
Seen or read anything interesting recently? I'd love to know. I'm always happy to receive reviews of books, art, theatre and film. To submit or suggest a review, please send an email to judydarley (at) iCloud.com. Likewise, if you've published or produced something you'd like me to review, please get in touch.