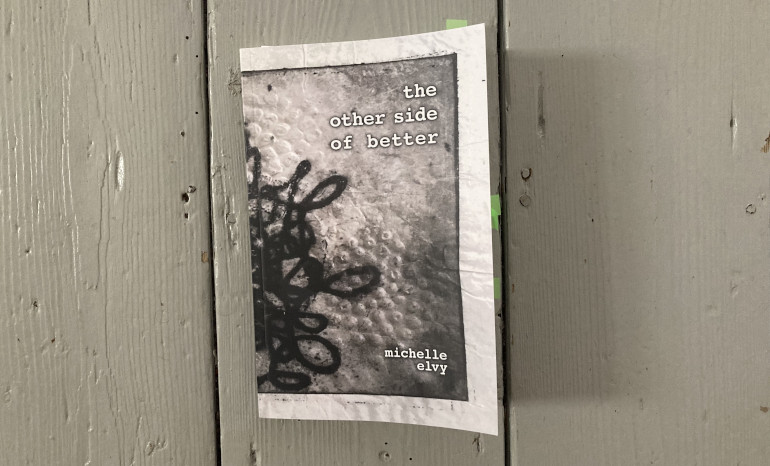 Fans of Michelle Elvy's novella-in-flash the everrumble (and yes, I very much count myself among them) are in for a treat with the author's newest offering. the other side of better, is another literary marvel the defies categorisation, skirting genres and forms alike, with flash fiction, creative non-fiction, poetry and general musings all layering together like a bowl of salt, sweet and umami-flavoured popcorn.
I was left with a palpable impression of the author's deep affection for both her invented and remembered characters and the spaces they inhabit.
In 'A Midsummer Night's Shore', Elvy offers up a painterly scene while drawing on all our senses: "A sandbar juts out and canvas claps as we tack away", "Squishing feel, wet marsh", and, most beautifully of all, in writing of a heron: "My wants are a blue-grey ghost, gliding."
Something about those word choices suggest the cool of the barely discernible sky, the smell of the water and the quiet of the author's heart, at that time, in that place.
Elvy's specificity illuminates images in your mind's eye. Consider 'And in the museum: triptych', in which fledging yearnings are offset against whaling memorabilia. "Beth is always at Marianne's side. They have matching sweaters. John is wedged in, trapped behind the girls. (…) Beth takes Marianne's hand: a barricade of laced fingers." Those tightly written sentences capture a moment wholly particular and yet entirely universal.
Interspersed between some of the stories, and in a 27-page wedge in the collection's centre, you'll find notes from "the Fuddy-Duddy Editor" who "was once a Fuddy-Duddy Writer." These intrusions, the literary equivalent of a theatrical aside, add humour and insight, as well as making you, in some cases, feel a surge of defensiveness towards the tale you just enjoyed and which she is now picking holes in. It's a neat trick.
"Lost and found in Berlin" is a self-contained tale that re-emerges in this central part as a powerfully constrained abbreviation. By shifting from first to third person, the second version shines up our impression of the protagonist and of her tenderness towards an old man with a trainset in his basement at the end of an East Berlin trainline. "The girl recalled  the tiny free world, and the bigger walled world."
It's an imperfect echo that ripples through many of Elvy's works – the themes explored, exquisitely polished, and then tipped on their heads; the memories subverted into fictions that read truer than any inventory of facts; and of sounds swelling with unuttered secrets just beyond the pages' confines. It all succeeds in challenging us to engage in dialogue with Elvy's hybrid forms.
Adventures small and large brim within these pages, where you'll only need to hold your breath for exhilaration's sake.
In the final section, 'in a dream in a dream in a dream', Elvy splices together fragments of climate fiction in the voices of an elephant, a sloth, a giraffe, and a deeply self-satisfied hippo, among others. The author sweeps us across oceans to shores where "waves roll in like timpani" and libraries serve up poetry with tea, draws us into childhood dreams of sails and pectoral fins, and enshrouds us in loss and discoveries. Through it all, Elvy reminds us of the joy to be found in this extraordinary world of ours, and that it's up to us to choose to "give it a try."
the other side of better by Michelle Elvy is published by AdHoc Fiction. Buy your copy.
This book was given to me in exchange for a fair review.
Seen or read anything interesting recently? I'd love to know. I'm always happy to receive reviews of books, art, theatre and film. To submit or suggest a review, please send an email to judydarley (at) iCloud.com. Likewise, if you've published or produced something you'd like me to review, please get in touch.