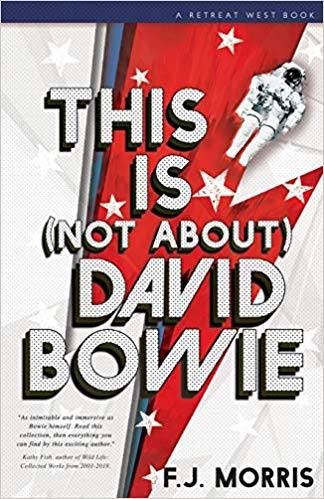 FJ Morris has a unique way of viewing the world that feeds into every piece of fiction she writes. Loosely using the theme of David Bowie as a connecting point, the stories in her debut flash fiction collection examine the magic of our human contradictions in glittering, meteor showers of prose.
Morris' vivid turns of phrase bring scenes into focus – puddles 'pop' with rain, bodies can become rubble, and confessions are preceded by "the deepest of breaths, for the deepest of dives."
There's a sense of unearthing ancient fables through her tales, as even the most unexpected imagery is presented with such innate confidence in us readers to digest it that it seems at once commonplace and utterly peculiar. That's a skill many writers fail to master in a lifetime – akin to achieving the ability to harness a trick of the light.
Morris' sideways glance at the world equips her to embrace huge themes in a way that helps you see them anew. She tackles grief via the motion of a freshly vacated swing, and explores on questions about gender, sexuality and more in a way that invites strange flavours onto your tongue and unfamiliar textures under your bare feet.
In The Last Thing My Father Sang To Me the losses of the refugee crisis are distilled into a fear of forgetting: "Were there boats on the lake? Did my mother have a mole on the right or left of her nose? What pitch did my father sing at? Was he in tune?"
In Tuning In Morris gives flesh and feelings to the binary/non-binary debate. It's a clear-eyed view into the unequal challenges faced by anyone regarded as 'other', and a reminder that the geniuses among us have never been classified as fitting in.
There's a wonderful openness throughout the whole volume – a sense that differences are to be celebrated and that predilections deserve to be explored. It's apparent too that Morris has a keen fondness for the absurd, which keeps even the most serious topics from weighing heavily. Too many toes? No problem – no-toes-at-all may be waiting in the wings!
And in Lifeline, Morris writes of the power of the kind of love that welcomes us exactly as we are. "I could be any shape I wanted."
Morris's debut is a moving, kooky and outstandingly original collection. I have a feeling David Bowie would approve.
This Is (Not About) David Bowie by FJ Morris is published by Retreat West Books and is available to buy from Amazon.
Read FJ Morris' guide to writing a themed short story collection on SkyLightRain.com
Seen or read anything interesting recently? I'd love to know. I'm always happy to receive reviews of books, art, theatre and film. To submit or suggest a review, please send an email to judydarley(at)iCloud.com.