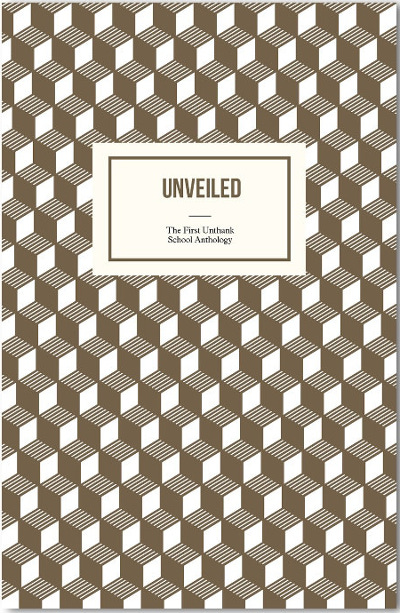 The first anthology of novel excerpts from the Unthank School of Writing was never going to be a straightforward affair. Created seven years into the School's existence, editors Ashley Stokes and Stephen Carver describe the contents as brimming "with storytelling verve, imagination and talent."
That's all true, but what strikes me most powerfully  is the immense variety within these tales, crossing time and geographic landscapes while presenting us with a multitude of realities, shared in a diverse array of authorial styles.
The anthology opens with Lost Lessons of Imaginary Men by Nicola Perry. Reading the author biographies, it's clear Perry is one of the more practised Unthank School alumni, and that experience shines through in this prologue and first chapter.
She opens with words that anchor under your skin: "My mother is dead inside. There's nothing I can do for her. I am instructed in this from a young age." Questions bubble up immediately: who is our narrator? How young are they exactly? What's wrong with the mum? Is she the one instructing her son in this peculiar fact? If so, why? Perry has clearly mastered the art of intrigue, and we're only 21 words in. Impressive.
Interference by Susan Allott drew me into the Australia of 1967, when it was commonplace to remove indigenous children from families, supposedly for their own good. The first character we meet is a policeman, Steve, assigned this reprehensible task. Allott evokes the complexity of the situation and Steve's discomfort with the distress he is causing, painting this strain against the suffocating heat of New South Wales: "The room was stifling. Steve started feeling separate from his body, like he might not be in charge of himself. He didn't know what he'd do next."
Claudie Whitaker's Ideas I Am Sending On Holiday squirms with darkness as we meet a seven-year-old in a cellar where his mother has spilt both blood and wine… The child's response is the most chilling thing in this account, leaving an impression that's stayed with me.
The Red King by Nicholas Brodie is another powerhouse of an excerpt, depositing us in a world confined to an Alaska tower block where residents and businesses jostle side by side. Into this claustrophobic setting, insert one murder victim and one under-resourced police force, a teenage witness and a suspect who just happens to be the Red King of the title. An intriguing premise given life via cinematic writing makes Brodie an author to watch.
Other highlights include Jacqueline Gittins' To Sudden Silence Won and Zoldana: A Woman and A Valley by Zoë Fairtlough.
The characters in each of Unveiled's 15 extracts seem intent on having us read on, which is equally the delight and frustration of these carefully curated fragments. As a showcase of emerging literary talent, Unveiled does its job with beguiling aplomb. Quite simply, this volume presents a beautifully eclectic collection of beginnings.
Unveiled is published by Unthank Books.
Read about how the Unthank School of Writing came into being in Ashley Stokes' guest post for SkyLightRain.com
Authors featured in the anthology are Susan Allott, Nicholas Brodie, Jax Burgoyne, Carey Denton, John Down, Zoë Fairtlough, Jacqueline Gittins, Victoria Hattersley, Marc Owen Jones, Sabine Meier, Lloyd Mills, Nicola Perry, Lorraine Rogerson, Jose Varghese and Claudie Whitaker. The editors are Ashley Stokes and Stephen Carver.
What are you reading? I'd love to know. I'm always happy to receive reviews of books, art, theatre and film. To submit or suggest a book review, please send an email to judydarley(at)iCloud.com.