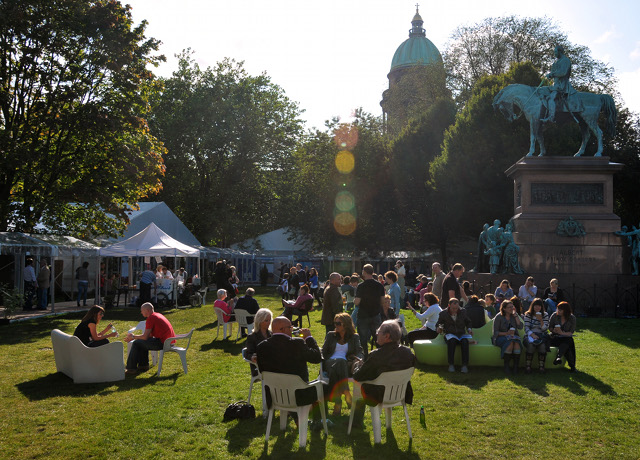 This year's Edinburgh International Book Festival is on from 14th-30th August, with more than 300 writers, artists and thinkers taking part from around the world  Events will be hosted both in real life, and online. Topics will focus on a changing world dealing with and reeling from the impacts of Covid-19, climate crisis, poverty, inequality, technology – and how we can move forward.
Online events will be offered on a 'pay what you can' basis, with opportunities to connect with authors by asking questions in live Q&As or catch up on events at a time that suits.
The festival's director Nick Barley says: "We are incredibly excited to produce our first 'hybrid' festival with authors and audiences joining us both in person and online.  We welcome a mix of Scottish and international voices to discuss their ideas, hopes and dreams and we aim to explore together how to move 'Onwards and Upwards' from this devastating pandemic. In our new home at Edinburgh College of Art we have created three broadcast studios, two of which can accommodate limited audiences. These facilities enable us to offer author conversations to worldwide audiences and to those closer to home who are unable to join us in person, as well as welcoming a limited In-Real-Life audience."
Look out for events with Nobel Prize winners (including Professor of Economics and Philosophy at Harvard University Amartya Sen discussing the meaning of home and Kazuo Ishiguro talking about his new novel Klara and the Sun and what it is to be human) and Booker Prize winners including Salman Rushdie speaking to journalist Allan Little about the role of writing in shaping public debate, and Bernardine Evaristo interviewing three authors whose books published in the 1990s are now republished by Hamish Hamilton as part of a series entitled Black Britain: Writing Back, all selected by Evaristo.
Judith Bryan will discuss Bernard and the Cloth Monkey, while S I Martin presents his multiracial historical novel Incomparable World, and Nicola Williams, a barrister as well as a novelist, discusses her legal thriller Without Prejudice – the story of a young woman of working-class Caribbean background and her struggles to succeed as a lawyer in a predominantly white, male environment.
There are also 60 events in the Baillie Gifford Children's Programme, with readings, draw-alongs, and dancing, plus a new series of pre-recorded, audio-only events and walking tours around Edinburgh for all ages.
Find full details of the Edinburgh International Book Festival programme.
Got an event, challenge, competition, opportunity or call for submissions you'd like to draw attention to? Send me an email at JudyDarley (@) ICloud (dot) com.
SaveSave
SaveSave
SaveSave
SaveSave