An immense cast, a diverse array of techniques (from shadow puppetry to cunning lighting), and a huge amount of imagination – Bristol Old Vic Young Company have taken an award-winning graphic novel and given it life.
As we enter the Bristol Old Vic's Studio to take our seats, we find the cast already in place, all 20 of them, standing and gazing out at us.
At its heart a political tale about a town's reaction to one of its residents growing a truly massive beard, the play is shot through with humour and joy. Characters are larger than life, from level-headed Professor Darren Black, played by 23-year-old Elliot Winter, to vehement Nigel-Farage-alike acted by Joshua Robinson, to the quiet, unassuming Dave, who just wants to be left alone to draw and listen to Eternal Flame by The Bangles, but whose facial hair is causing all the furore. Oscar Adams portrays Dave's personality beautifully, ensuring that even when weighed down by metres of beard he still shines through.
Living on the safe, neat island of Here, surrounded by the terrors of the unknown There, Dave and his fellow islanders love nothing better than tidy lawns, and look forward to Monday mornings with disconcerting enthusiasm.Questions are frowned on as much as mess, and when a single hair on Dave's chin (revealed beautifully with shadow puppetry) explodes into an unruly beard, his place in his community is immediately at risk.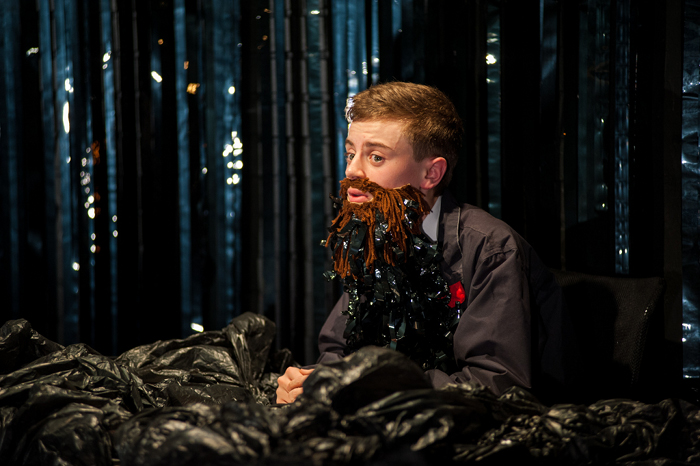 Stephen Collins' graphic novel tells a dark story of conformity and fear that in the hands of Director Stephanie Kempson and the young company becomes a far lighter tale. At times I felt that was a shame – I would have liked more complexity with regards to the residents' reactions to the beard – while they did at one point reach out with disgusted interest, I would have liked to see some fall wholeheartedly in love with it, or perhaps be alarmed by their growing desire to touch it.
What they do present is an utterly moving and very thought-provoking play. Emotions are heightened by musical director Verity Standen's a capella arrangements performed by Stephanie Jayne, Zoe Hitchen, Esther Myers Insole and Lucy Crow, while many of the images shown on the shadow screens (particularly some of the later ones) are powerful enough to sweep you along with them. The beard itself is visually impressive – using what looks like tendrils of shiny video tape to begin with, then expanding with the use of rustling, ever-moving black plastic rubbish bags that represent every sinister thing the residents of Here have ever feared.
And yes, there is change among the residents themselves, as the emergency casts them out of their orderly existence into a more haphazard, individual way of being. Ironic, really, when poor old Dave really wanted nothing more than to be unnoticed in his conformity and left alone to draw.
Get a behind-the-scenes look from Stephanie Kempson here.
All images in this post are by ShotAway.
To submit or suggest a review, please send an email to Judy(at)socketcreative.com.