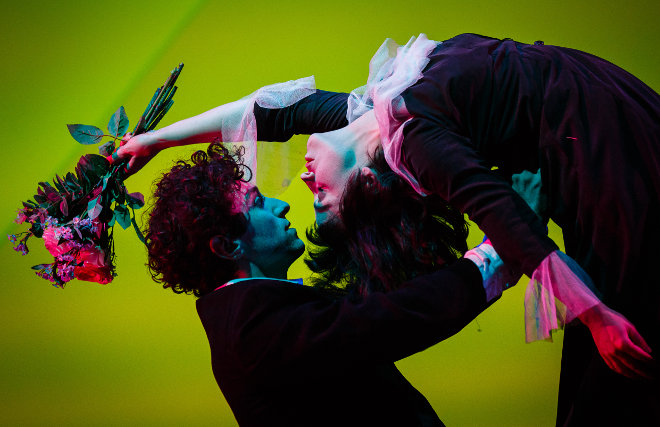 Every love affair has the potential for greatness, but only a select few achieve this, and fewer still have the spirit of their passions captured on canvas for all the world to see for eternity.
Many of Marc Chagall's exuberant paintings featured himself and his first wife, Bella, often with Bella taking flight as though in joy. In Kneehigh and Bristol Old Vic's vivacious production, written by Daniel Jamieson, the couple's love affair and life is displayed in wondrous technicolour, with lighting, sound, an inventive set, dance and song all playing a role. As director Emma Rice says in the teaser video on the Bristol Old Vic website: "I'm finding the whole piece is like painting a picture. It's like we've got a palette of things and we're mixing our colours and mixing our ideas, and making a new art form."
Performed with boundless energy by Marc Antolin and Audrey Brisson, we witness the pair's first meeting and follow them through the years that follow, as they explore their love, face some of the darkest times in recent Russian and European history, and eventually make it to the United States.
Music director and composer Ian Ross
 and musician James Gow ensure the stage always feels full, even when populated by a lone actor. The wedding is a particular comic joy, beginning with Bella strolling the stage greeting guests we cannot see and admitting time and again, "Yes, yes he is a Jewish painter," and enduring the uninvited sympathy of her relatives on one of the happiest days of her life.
Ian Ross has mined the traditional, classical and "the Rusco Romany element of folk music in Russia" to imbue scenes with atmosphere, while lighting designer Malcolm Rippeth shifts moods with an injection of colour entirely in keeping with Chagall's paintings. The screen at the back of the stage that captures these colours also serves to show the shadowy figures of anyone standing and dancing behind it, adding another enticing layer to the texture of the show.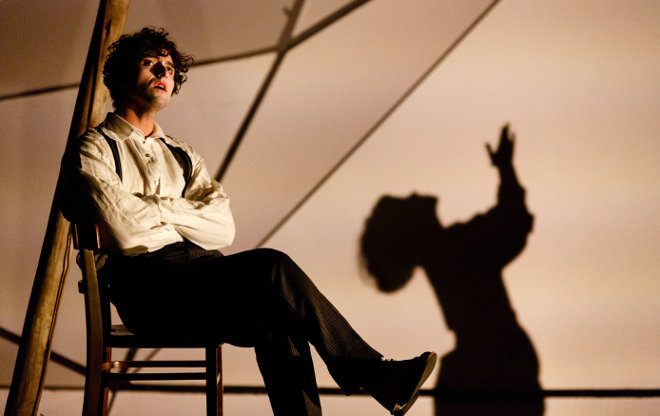 There are countless moments of laugh aloud humour, thanks largely to the physicality of the two actors, but also heart-breakingly tender scenes, as when Chagall is battling depression and Bella does her best to draw him out of it, and later, when Bella is taken ill.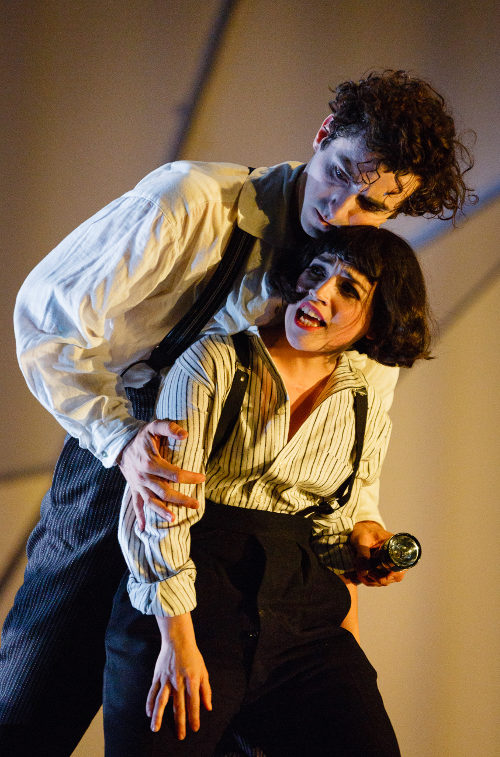 Some of their darkest moments are barely touched upon however, such as their arrest and escape during World War II, when the Jewish population of their hometown, Vitebsk, has already been eradicated. At times, details like these are mentioned by a character, almost in passing, but with so much beauty and interest present on stage, the emphasis is on enjoyment – dwelling too much on the bleakness would create an entirely different play. As Audrey Brisson says: "You don't get to see the whole thing, but you get this beautiful arch through the story."
I fell for the art of Chagall when I visited the Marc Chagall/Dario Fo exhibition in Brescia last year, and now feel I have fallen in love all over again. Emma Rice and her team have more than done his extraordinary talent justice and brought to exquisite life one of the artworld's greatest duos.
The Flying Lovers of Vitebsk is on at Bristol Old Vic until 11 June 2016. Find details and buy tickets here.
All images by Steve Tanner.
Writer Daniel Jamieson
Director Emma Rice Assistant Director Matt Harrison
Composer and Music Director Ian Ross Musician James Gow
Designer Sophia Clist Lighting Designer Malcolm Rippeth
Sound Designer Simon Baker
Choreographer Etta Murfitt
Marc Chagall Marc Antolin Bella Chagall Audrey Brisson
I'm always happy to receive reviews of books, art, theatre and film. To submit or suggest a review, please send an email to judydarley (at) iCloud.com.