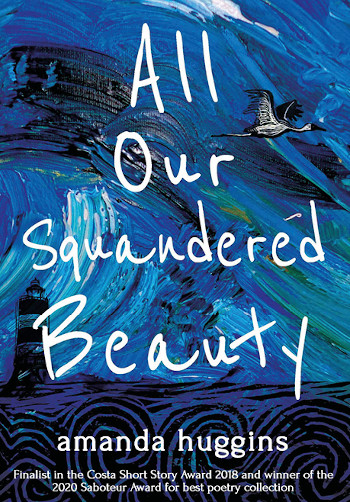 In her debut novella, Amanda Huggins casts her lyrical storytelling over the ruggedness of wild oceans, churning grief and raw adolescence with dizzying potency.
Set in 1978, the salt and tides of the North Sea flavour Huggins' words as she introduces us to Kara, named after a sea in the Siberian Arctic and a guardian sprite who carried shipwrecked sailors "into the clouds in fishing nets" spun from her hair. Kara simultaneously thirsts for adventures beyond her field of vision while yearning to dive back into the safety of her past. Huggins captures this inner conflict beautifully, highlighting Kara's confused emotions against a backdrop of motorbikes, unsuitable suitors, nature and art.
When Kara's art teacher Leo informs her that she's eligible for "a funded place for a gifted student" on a three-week art placement on a Greek island, Kara is swept away under a swell of first impressions that absorb every sense. Yet misgivings murmur beneath the surface, even as Huggins' ribbons of words saturate us.
"When they stepped off the plane they were enveloped in a cloud of warm air filled with the scent of herbs and pine resin, of flowers and hot tarmac."
It's enough to make you draw in breath.
And less than half a page and a stretch of water later: "silver-green olive groves that pulsed with the sound of cicadas."
Places are summoned up with deliciously rich yet spare descriptions, until you feel you're remembering as much as reading. I was reminded of my own teenage years and the joyful risks I took without hesitation.
As Kara explored the nearby beach, I half expected her to encounter a cat I met on the secluded cove of my own Greek adventures two decades later. Huggins has a knack for latching onto the important moments in her characters' lives and creating undercurrents that knock against our own.
As well as a powerful fiction writer, Huggins is a poet, with her collection The Collective Nouns for Birds winning the 2020 Saboteur Award for Best Poetry Pamphlet. Echoes of this skill, and even that particular preoccupation, resound throughout her prose:
"Whenever Da wanted Kara to go to sleep, he listed the names of seaweed and the collective nouns for birds, as soporific as a lullaby. Now they merged into one as she recited them in her head: a convocation of murlins, a clamour of purple claw, a confusion of spiny straggle and a charm of oyster thief."
Kara's father disappeared seven years earlier while aboard his boat the Canny Lass, believed to have drowned. The lack of a body has haunted Kara with uncertainty, craving both his return and proof that his gap in her life was not his choice.
Huggins weaves in marine folklore with the nostalgia of seaside arcades, so that scenes glint enticingly with tide-smoothed glass and the copper of tuppenny falls.
Over the course of the book, Kara gains confidence and self-awareness, and comes to terms with the grief that will always be with her. By contrasting snippets of Kara's happiest times with her father with the loneliness that followed his absence, Huggins illustrates the discombobulation that comes with losing someone pivotal to the world as you know it. "After Da's accident none if her school friends had known what to say to her. They were too young to grasp the significance of her loss."
But beyond the headiness of childhood soaring into early adulthood, it's the sense of being on the brink of things that stands out, with the coastal setting providing both the perfect backdrop and metaphor.
Read my review of Scratched Enamel Heart by Amanda Huggins.
This book was given to me in exchange for a fair review.
What are you reading? I'd love to know. I'm always happy to receive reviews of books, art, theatre and film. To submit or suggest a book review, please send an email to judydarley(at)iCloud.com.