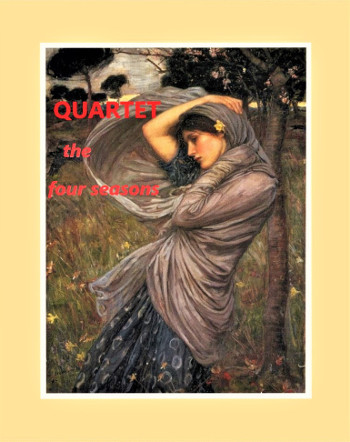 Edited by Deborah Gaye of Avalanche books, Quartet is a celebration of the moods that make up each season. The anthology of poetry and short prose doubles up as an almanac reminding us of the best that every quarter of the year has to offer.
Two of my pieces, a poem and a flash fiction (More Water Than Land and The Moth Room), lodge in these pages, among with many, many others. We begin in winter with a murmuration, glimpses of lapwings, an "upturned umbrella" on Pendine Sands, and the generosity of a dawn sky "layered in gold."
In DecemberJohn Mole welcomes nostalgia in the form of "our ghosts/ as they come out of hiding/ to warm their hands/ at the fire we have made", while in Foula, Auls Yule, Katrina Porteous invites us to "drink to the days/ the sun makes ripe".
In Precious, Gaia Holmes evokes the magic of ice working "its dark magic,/ gliding and glazing/ the grid of dull roads,/ laminating grass/ and slug tracks,/ making rotten fence posts/ precious". It's such a vivid, recognisable scene of the ordinary rendered spectacular.
With Spring, the season's early wonder is captured in Cow Parsley, as Isabel Bermudez writes that the "hoverflies settle on upturned parasols of flower-heads", reminding me of that umbrella at Pendine and the way our seasons mirror one another with a nudge and knowing grin.
Reprise by Michael Schmidt is a love song echoed by the season, as a couple in bed are observed by "the birds returned" "like notes on staves", and the poet marvels at the sight of his beloved in "that deep sleep/ that leaves you vulnerable to dream."
In the next section – Summer – birds are instigators more than witnesses, as Chris Tutton writes of how "It took a cyclone of stubborn swallows/ to fashion summer from a jumble of rain."
Rain is a presence in many of these summer poems, turning "the prize white Persian into a grumpy sponge", while the spell of sundrunk days is conjured in memories of "boredom treacle-thick" and "downy-soft hatchling mornings."
In our final lustrous season, Autumn, we're offered a quiet crescendo of senses – a "bundle of contradictions.'
Goldcrestsby Katrina Porteous, which contains the line above, speaks of these birds as being "crowned brilliant/ ochre, as if each skull was split/ open as earth is, by its own fire." A perfectly accurate and redolent statement, and one that could equally be applied to autumn itself.
Other poems muse on the tipping point of this season, as nature puts on a last exhaustive cabaret ahead of the freezing dark to come. These pieces show us butterflies feasting on blackberries and autumn blooms, while Mimi Khalvati unveils the unleashed glory of the paintings produced by her mother: "when cataracts made them look too pale, unknown to her, her flowers went fluorescent".
And towards the end, in Stories,Moniza Alvi embraces us with a murmuration of another kind, taking us back to our beginning with the beauty of fallen leaves given fresh life by a passing breeze:
"a flock of them              skitters            whirls up."
And so we are carried onwards, to our starting point and beyond, to new seasons and new years marking the passage of time.
A sumptuous journey of an anthology exploring our relationship to the idiosyncrasies of the changing seasons and the abundance of nature at each step of the way.
Quartet: The Four Seasons is published by Avalanche Books and available to buy from Amazon and good bookshops.
Seen or read anything interesting recently? I'd love to know. I'm always happy to receive reviews of books, art, theatre and film. To submit or suggest a review, please send an email to judydarley(at)iCloud.com.