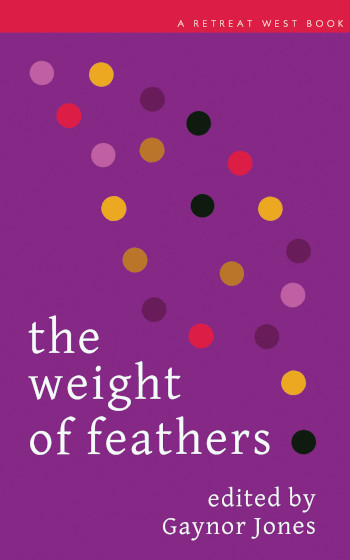 The Weight of Feathers anthology comprises the winning, short-listed and highly commended fictions plucked from the riches submitted for the Retreat West Prize 2020. It opens with The Stonecutter's Masterpiece by Jennifer Falkner, a bitter-sweet short story with a vivid sense of place, opening as it does with a paragraph that includes an expertly crafted line on the valley setting: "His workshop was the only thing in it, curled at the bottom like a sleeping cat."
As short story judge Peter Jordan writes in his report: "It won because the writing on an individual sentence level was superb."
In fact, there are outstanding sentences throughout this anthology. The book brims with intriguing short stories and flash fictions, each of which shimmers and hums with sensory details: a butterfly fluttering inside a double-glazed window; a woman turning to stone; a mouthful of damson jam. The delights are myriad, offsetting the sadness at the heart of many of these tales.
Flamingos by Ali McGrane is a gloriously tender tale about belonging set in the vibrancy of a trip to the zoo. Interspersing animal facts with the unfolding narrative of a woman trying to hold her family together while they hold her intact, it found its way between my ribs and lodged there.
Centuries, In Burnt Sienna by Natasya Parker is a glittering example of how being playful with our telling can slide dark truths under our skin even as we marvel at the beauty of the surface. While our narrator, April, gets in trouble for her loyalty to drawing in earth tones, her sister devours history decade by decade. Parker's skill lies in unexpected visuals that plunge us directly into the characters' frames of mind: "Tabitha ate as far back as she could. She finished elementary school with Neolithic boulders in her stomach." Later in the tale, we experience April's emotions as though first-hand: "My grief was gritty and frantic, metallic and hot."
This powerful piece encompasses not only a coming-of-age story, but also an examination of how it feels to face catastrophic human mistakes that no appetite for knowledge can reconcile.
When judging competition entries or choose between submitted stories for publication, I sometimes find the ones about bereavement seem to lack an original spark. It makes finding a truly innovative take on this topic all the more exhilarating. As well as Centuries, In Burnt Sienna, two other stories in this anthology showed me how this can be achieved exceptionally well.
The second prize winner, Daniel Sprinkles Stars by Holly Barrett, which manages to relay the entire story from a child's point of view and somehow succeeds in never mentioning what's actually happened while making it abundantly, poignantly clear.
It's Not Normal to Befriend a Trapped Butterfly by Emily Harrison revolves around the impossibility of a butterfly somehow sealed between two panes of glass, an image which is now seared onto my brain. This story cradles everything you could want in terms of devastation, hope and compassion, and heightens this through the focusing on the predicament of a fragile winged creature. It also has a last line that made me exhale in a whoosh, which is the only way I knew I'd been holding my breath!
The third prize-winning flash fiction, Visiting Hours by E. E. Rhodes dances us through another kind of sorrow, both tempering and intensifying the telling by slicing it into sections, each aglow with the kind of fabrications we tell ourselves in order to stay sane in times of extremity.
Each of the last two tales I've mention use elements of the fantastical to emphasise how unfeasible and unlikely loss can feel. Rhodes weaves rumours of selkies, mermaids and albatrosses into conversations between a man and the wife he doesn't recall. In this segmented flash, it was the sentence most rooted in the commonplace made me pause and feel: "And I made us both our tea, and he drank it from the sauce, and there was no reason now to scold him." Set amidst strands of mythology, it glows like a lone flipflop washed up on a shore.
Each of the authors in this anthology understands how to weight their stories perfectly, so that you are tipped naturally one way or another towards the core of their tale. In that way they all offer a map to explore empathy and unearth our own deep-buried emotions, including our potential for joy.
The Weight of Feathers edited by Gaynor Jones is published by Retreat West and is available to buy from www.retreatwest.co.uk/the-weight-of-feathers.
This book was given to me in exchange for a fair review.
What are you reading? I'd love to know. I'm always happy to receive reviews of books, art, theatre and film. To submit or suggest a book review, please send an email to judydarley (at) iCloud.com.