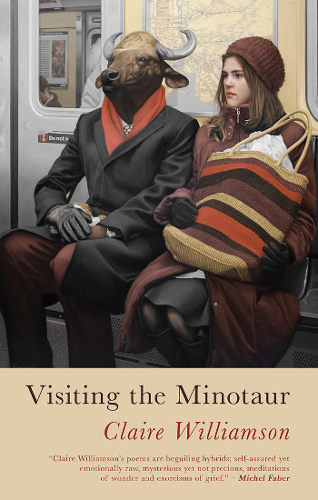 Drawing on myths to make sense of our mortality, Claire Williamson's first collection with Seren is at once heartbreaking and comfortingly human, with the skill to make your spirits soar.
Seen through Williamson's eyes, a half bull, half man hybrid is nothing compared to the complexities of surviving your average childhood. From the aching tenderness with which she knits memories about her own daughters to the grief and confusion of losing a sibling and mother, Williamson immerses you with such conviction that you can't help but empathise.
There's a distinct irreality to much of the carefully conjured imagery, which only serves to heighten the stark honesty of the sensations being shared. Family members long gone return as horses: "She thrusts her black muzzle/ into the cleft of my torso and arm/ and I feel her warmth for the first time/ since she drank that poison."
Bereavement is a theme throughout, but even in the bleakest contemplations, Williamson manages to find humour in the moments she captures.
In the powerful Survivors of Bereavement by Suicide, support group conversations become gaudy crochet garments hooked "by a well-meaning aunt,/ separating us from the cool set." It's the unexpectedness of the analogy that works so well – speaking depths about the layers of difference unwittingly foisted upon us by others.
Motherhood weaves a brighter but equally searing thread through the collection.In No Man's Land, a hospital bed becomes the Somme, and the poet, losing blood through childbirth, spells out a name "to keep my senses." It's one of the most brilliant and believable descriptions of labour I've read.
Williamson envelops us in her inherent protectiveness for her children, as a July day at a lido results in her jumping in, fully clothed: "My dress billows/ on the surface,/ then clings, as your in-breath/ pulls us gaze to gaze."
And an encounter with a peacock trailing its "teal ballgown", leads Williamson and her daughters into the pleasures of a debate over why "bird-boys" are so much more flamboyant than "boy-boys".
The possibility of true happiness glimmers in the stanzas too, summoning visions of Williamson's younger self wearing expressions as "hopeful as buttered crumpets"
But it's the presence of the minotaur that will stay with me – misunderstood, lonely and awkward, yet, in Williamson's hands, imbued with an uncanny grace.
Williamson's writing is wise, wry, and, above all, illuminating, inviting us to experience the world with the same intensity as she clearly does, and to celebrate that scale of emotional intelligence as a vital means of survival. Quite simply, this collection will remind you how to feel.
Visiting The Minotaur by Claire Williamson is published by Seren. Buy your copy from Amazon.
Read my review of Spilt Ends by Claire Williamson.
Read my review of A Watchful Astronomy by Paul Deaton.
Read my review of Sax Burglar Blues by Robert Walton. 
Read my review of In Her Shambles by Elizabeth Parker.
What are you reading? I'd love to know. I'm always happy to receive reviews of books, art, theatre and film. To submit or suggest a book review, please send an email to judydarley(at)iCloud.com.
SaveSave
SaveSave