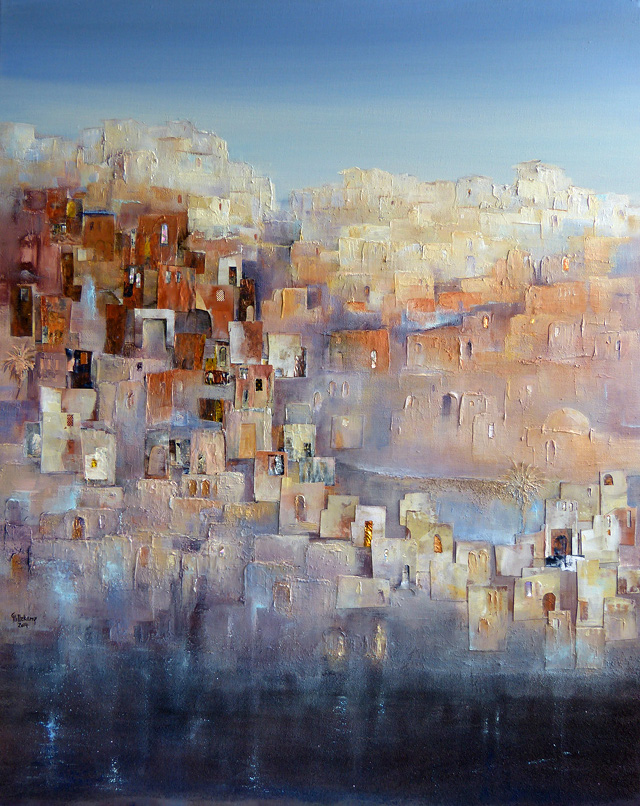 The townscapes of Christa Hillekamp bloom out of the desert like a glimmering heap of scales, shells, petals – aglow with all the light and heat they've absorbed.
Even her ocean waves suggest sand and sinew – alive with the stories of people met and imagined on Christa's travels across the world.
In fact, art and travel are the twin driving forces of Christa's work.
"Since my early childhood I liked to draw and paint with anything I could find: with a stick in the sand, with broken stones or charcoal, on walls and paving slabs, and later on paper – this was for me a way to escape into a fantasy world," she explains. "The other way to escape as I grew older was by hitchhiking to explore new environments, cities, countries and people of different cultures."
Though born in Cologne, Germany, Christa sought a sense of belonging overseas. "I think that from a young age I lived my life trying to satisfy my wanderlust," she says. "Only later I did I realise that the feeling of being rooted nowhere was a strong drive to search for a place where I would feel at home."
When her daughter was three years old and Christa had just finished studying for a social work qualification, Christa ventured out into the wider world once more. "We moved to Portugal and later lived in Côte d´azur, France, but still I felt like a stranger and when school started for my daughter we moved back to Germany."
Around this time, Christa met Thomas, the man she would fall in love with and marry.
"Together we decided to live in South of Spain, where we felt very welcome. We've now lived for twenty years in the little mountain village of Cómpeta, Andalucia."
She adds, "I no longer put too much importance on living somewhere that feels like home, because I feel much more home in myself, surrounded by friends I love, and especially with Thomas."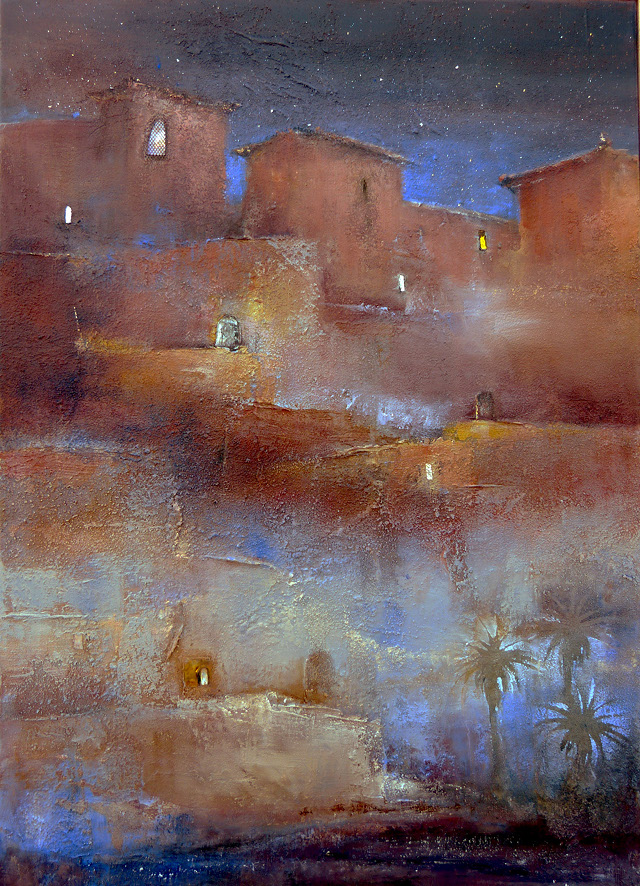 Christa never lost her desire to be an artist. "Though I studied social work and was employed for many years in Germany as a theatre set-builder, there was no question inside me that art was my real profession. "
During her last two years living in Germany, Christa spent time as a social worker at Prison Lübeck, organising art classes with the inmates as part of this. "After moving to Cómpeta I worked in a project for kids and young adults with all sorts of problems. Art became an important part of this, because it provides a wonderful way to connect with people and create dialogues, both verbal and visual."
Since becoming a full-time artist, Christa has discovered the pleasure of experimenting with a broad range of materials, including metal, wire mesh, plastic, rust, earth, wood, glass, mother of pearl, sand, horse hair, pigments, bark, and glitter. "Underneath the crust of earth there are layers over layers from millions of years," she comments. "Here in the mountains you often see fissure through huge rocks. I like to reflect this in my work, building up layers, carving the layers, bringing out structures from deep inside the material. Texture both reveals and disguises sections of my paintings, engaging our senses in different ways."
Christa's paintings often tell stories too. "'Memory of a Journey with the Lost Friend' (shown below) is a painting about a good friend who died in 2008," she says. "We were travelling together in South Marueco in the desert, so the painting is my way of saying goodbye."
More recently, Christa has been turning her artist's eye to the UK, not least because she is represented by Paragon Gallery in Cheltenham.
"Only two month ago Thomas and I visited Cheltenham for the first time, and then went to Exmoor, Cornwall and Devon," she says. "I was impressed by the wild landscape. Once back in Cómpeta I painted from memory the painting: 'The Hidden Coast Path' (detail shown below), which I like very much."
Discover more of Christa's work at www.christahillekamp.com.
Are you an artist or do you know an artist who would like to be showcased on SkyLightRain.com? Get in touch at judydarley (at) iCloud.com. I'm also happy to receive reviews of books, exhibitions, theatre and film. To submit or suggest a review, please send an email to judydarley (at) iCloud.com.