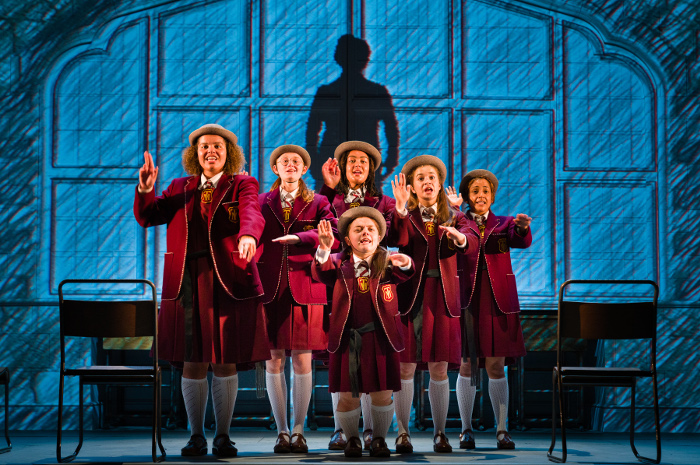 Emma Rice revels in the high jinks of vintage boarding school fiction, with a typically shrewd yet tender take on the Enid Blyton 'Malory Towers' classics.
Riddled with song and dance numbers, oozing energy and awash with acts of heroism shored up by a compassionate heart, Wise Children's second production, in collaboration with York Theatre Royal and in association with Bristol Old Vic and Bristol City Council, is as complex, entertaining & irresistible as any of the characters.
Staged within the impressively adapted Passenger Shed at Bristol Temple Meads, (which happily includes a popup by Storysmith bookshop, and a bar – what a fabulous combination, as well as plenty of tiered seating), Malory Towers is conjured with a simple set by Lez Brotherstoni (who also designed the costumes), featuring rolling desks and pull-out dorm beds.
With the outline of the turreted school doubling up as a perilous cliff top, you've got everything you need to provide the backdrop to a story full of jollity, treachery, heartbreak and forgiveness. The costumes are deceptively simple, comprising burgundy blazers and pleated tunics, boaters, virgin socks and patent leather t-bar shoes.
Projected animations add to the atmosphere, from the steam train journey to head mistress Mrs Grayling (voiced by Sheila Handcock). It's a trick that makes much of little, and allows the focus to remain firmly on the pupils, including gorgeous 'Bill' Robinson, played with swagger by Vinnie Heaven.
If you attended the company's debut production of Angela Carter's Wise Children, you may recognise Mirabelle Gremaud, who plays Irene Barlett, who turns backflips at the slightest provocation, and supplies much of the music composed by Ian Ross, along with pianist Stephanie Hockley.
Francesca Mills as Sally Hope delivers that character's sensible lines with a comic touch, and reveals her megalomaniac side and "fearful heart" with such verve you can't help but delight. Alicia Johns, played by Renee Lamb, is the class clown hiding her own secret shame beneath her humour.
Rebecca Collingwood's Gwendolyne Lacey is possibly the biggest challenge – a truly unpleasant piece of work who is sneakily spiteful to Rose Shalloo's meek but sweet Mary Lou Atkinson, while Izuka Hoyle's Darrell Rivers is the fierce bestie who'd you wished you'd had on your side at school. The characters each reveal the strength wound through with vulnerability that makes them relatably comparable. This is girl power in a time before the Spice Girls claimed the phrase, a applying equally well to men with that core strength of fallibility.
Inevitably, the dramatised version has a slightly tongue in cheek tone, not least when Darrell Rivers (Izuka Hoyle, pictured below with Francesca Mills), comments on how Alicia Johns' is 'deliciously naughty.'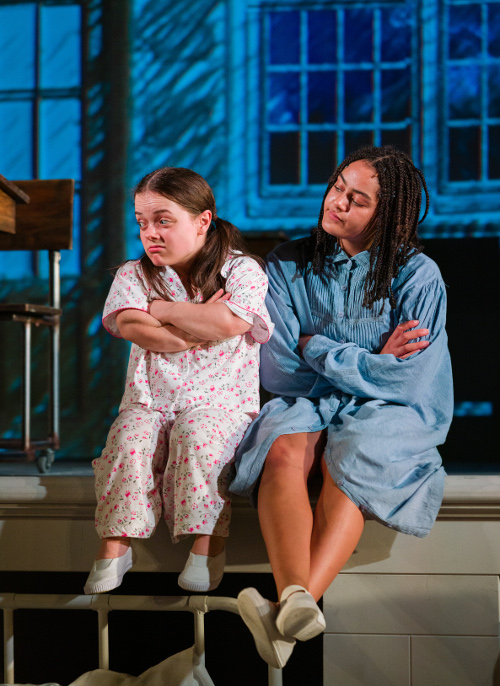 In true Blyton style, there's a convenient storm for our school chums to rush recklessly out into (perhaps a teacher who is more than a silhouette would have been helpful at this point), and a horse to ultimately save the day (although, the girls claim the hero is in fact "working together as a team.")
The only weakness in the plot is that it begins in the present and deposits us here again after a superfluous foray into the school pals' attempt at staging Midsummer Night's Dream (a nod to Rice's brief tenure at London's Globe Theatre?). It these bookends were deleted, the story would hold together seamlessly, but as it is they feel like unnecessary distractions.
The play neatly encapsulates the idea that each rock-solid friendship group, production company, or, let's take a leap and say board room, benefits from a diverse and varied assortment of skillsets and points of view.
As with the Wise Children play, the power bolstering Malory Towers lies in the empathy the characters demand from us and from each other. In fact, compassion surrounded by drama, laughter and song, is becoming something of a this flourishing theatre company's trademark.
Malory Towers is on at Bristol Old Vic until 18th August 2019 and will then be touring the UK. Find out more and book tickets. Production images by Steve Tanner.
Seen or read anything interesting recently? I'd love to know. I'm always happy to receive reviews of books, art, theatre and film. To submit or suggest a review, please send an email to judydarley(at)iCloud.com.