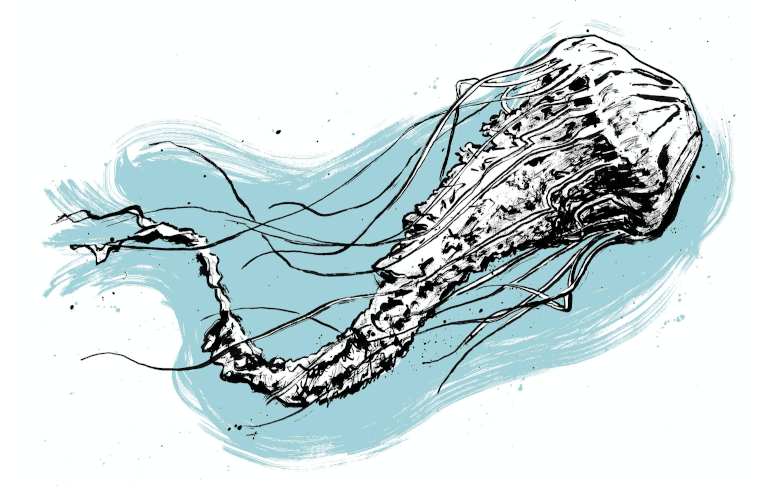 I was walking along Bristol's harbourside when I spied Scott Luís Masson's glorious oceanic artwork for the first time. Schools of fish spooling towards sunlight, small rowers battling gigantic waves and other-worldly, gelatinous orbs netted my attention. Diving a little deeper, I discovered an intriguing ecological slant to the artwork, with a focus on oceans and responsible plastic use. Scott tells me this was very much a conscious choice.
"I've lived by the sea for parts of my life and always found it an inspirational environment," he says. "Soon after my career change into illustration I began illustrating ocean and sea life pieces for various personal and then collaborative book projects, and ended up with a lot of images as a result that became stand-alone prints."
Prior to this, Scott was a teacher of secondary and A-level Design Technology and ks3 Art. "I always knew I had to pursue my own creative aspirations at some point, and was actually doing woodwork part time whilst teaching as the potential start of a career change, but I realised when I began making guitars that it was just an expensive hobby!" he recalls. "Illustration seemed a more viable option and I always wanted to get back into drawing and artwork in general and knew that later in life I'd regret not doing this. It was actually when my dad passed away unexpectedly that I was prompted to question what I was waiting for and to finally take the decision."
Scott's marine-inspired images led to further projects and opportunities including exhibiting at conferences and fairs alongside ocean conservation organisations.
"Regarding plastics, this topic obviously goes hand in hand with the ocean," Scott comments.
As he was becoming known for his ocean-themed artwork, Shambala Festival 2018 approached Scott to illustrate the plastics problem as a large-scale painting. "The painting acted as a stage backdrop for the Raw Foundation 'Raw Talks' that took place at Shambala Festival 2018.
"As someone who wants to live responsibly where I can – which is definitely a work in progress – I relish the chances to use art to promote awareness of the issue," Scott says. "I started packaging my prints in biodegradable waxed paper last year instead of plastic sleeves."
Narrative is a natural component of Scott's artwork, and he particularly enjoys storytelling as an element of creating illustrations.
"It's an opportunity to fully use your imagination!" he exclaims. "Illustration is a midway point between art and design, creating art work to what is essentially a design brief, even if that brief is a personal one, and it can be asking for your creative response to many possible things. This interpretation is what I enjoy, trying to depict something visually, often someone else's concept, as you imagine it, and then seeing the author's response to this."
The opportunity to work with creatives in other disciplines is another part of the appeal.  "Often illustration can be a fairly solitary activity so it can be great to work with a 'colleague' for a while."
He says that juggling myriad demands is the biggest challenge of any collaboration.
"Time is hard enough to manage individually and we're all busy with countless aspects to our lives," he says. "When collaborating with writers the source of the content is the text, but projects can often get stalled for a variety of professional and personal reasons. It's great when one gets going again, though. Perhaps that break allows for reflection and the outcome will be better for it."
A passion for music drives other projects and commissions. "I love anything related to music," Scott comments. "As someone who grew up with albums, I've always appreciated amazing artwork on covers and within sleeves. Responding to something audial with visuals always excites me. I've created the art and sleeve design for one album so far and hope to work on more in the future if opportunities come my way."
A new work of art or series of artworks begins with a design process of "first thoughts, research and sketches," Scott explains, "by which point I can normally see if a good composition is going to be possible. I tend to move onto ink as quickly as possible as my style is very linear and it's the loose inky lines that hopefully bring the image to life, after which I scan and usually add colour digitally."
Scott describes his frame of mind when starting a new artwork as being "a mixture of excitement and anxiety. I'm my own 'best' critic and always feel I can produce better work, so the beginning is often an overwhelming feeling of wanting to do so."
Fortunately, he finds he's usually happy with the outcome. "That brings a sense of achievement as well as relief, after which I'll start that process of reflection about how the next piece can be better."
Scott hopes to inspire viewers with "a level of intrigue about an image, maybe a sense of depth, which I try to bring to anything I draw. Hopefully they might feel like it's something that stands out a little, which has been said to me a few times at illustration and craft fairs and is always really pleasing to hear!"
To see more of Scott's artwork, visit slmillustration.com, where you'll also find links to his social media feeds.
Are you an artist or do you know an artist who would like to be showcased on SkyLightRain.com? Get in touch at judydarley (at) iCloud.com. I'm also happy to receive reviews of books, exhibitions, theatre and film. To submit or suggest a review, please send an email to judydarley (at) iCloud.com.