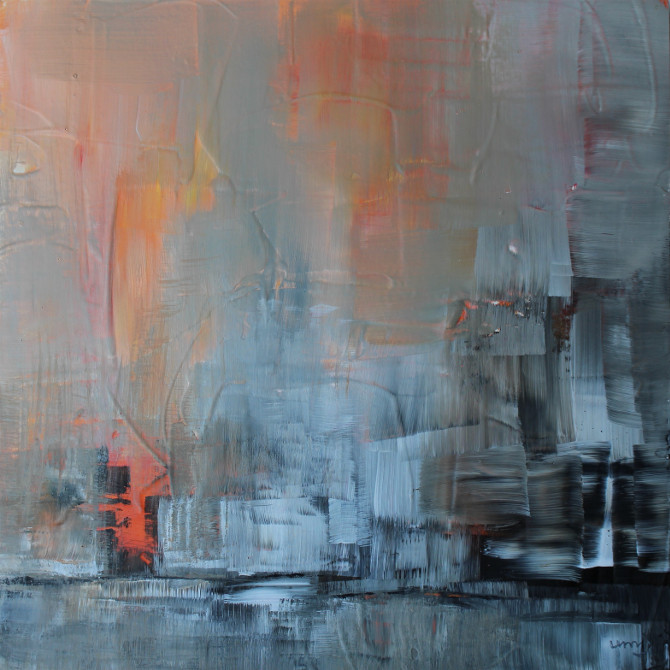 In 2014, artist Ulla Maria Johanson set herself the challenge of creating and completing a new painting every day. It marked the start of a period of intense productivity that has resulted in a series of exquisite work by the Swedish artist.
There's a sense of spontaneous energy to Ulla's paintings that I find utterly enticing, yet her habit of producing daily paintings began as a reaction to something of a painterly drought. "I was in a period when I experienced that I lacked inspiration, time and ability to paint," she explains. "My dream was to paint big and have a lot of time for creation, which was difficult to combine with full time work. When I did find time, the white canvasses felt scary and I rarely managed to make a whole painting I was pleased with."
Ulla's frustration grew, until during a break at work she went to an online bookshop and sought out their art catalogue. "I found Carol Marine's book Daily Painting," she recalls. "Interested, I read about the simple concept of painting small and often. I immediately felt that it was something for me, and I made my first daily painting the next morning."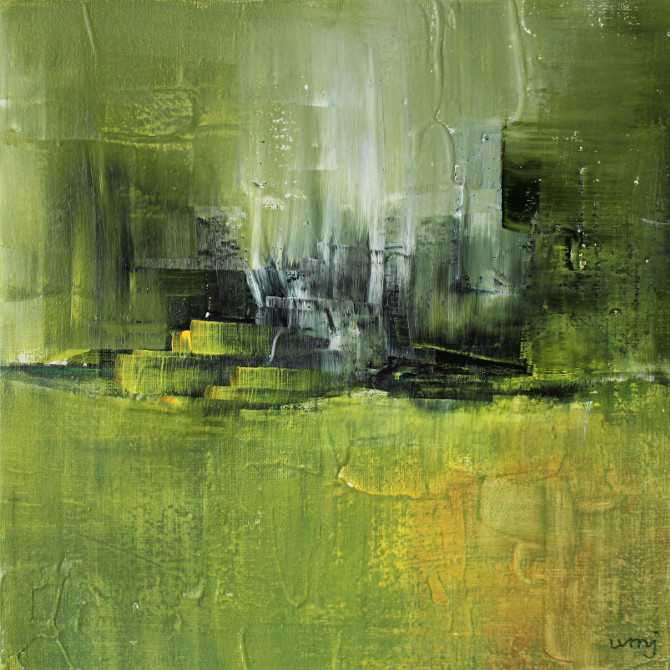 Luscious brushstrokes build up abstract scenes that summon up an impression of setting, season and mood.
The biggest challenge, she says, is to find sufficient time each day. "I learned quite soon to make it easier for myself by making a little pop-up studio," Ulla says. "At first, it was also difficult to find motives and ideas. Some days it seemed hopeless and I thought about giving it up."
To maintain her determination, Ulla gave herself a feasible end date. "First, I decided that I should give it 30 days in a row before stopping," she says, "and then I extended it to 100 days."
Four years on, the habit is now a deeply ingrained pleasure.
"The joy is to take the time to do what I really want," she says. "It's also a great liberation to have this daily habit established. At the beginning, I was often dissatisfied with what I achieved – my internal critic shouted in despair and encouraged me to quit! However, I soon found it became easy to silence the critic – the most important thing was not that the day's work should become a masterpiece but it should become something. Who can expect to produce perfection when time is tight?"
She adds: "The next day there is another chance to do something, and then it could only get better. Painting small and often also makes it easy to try new, experimental techniques and take chances."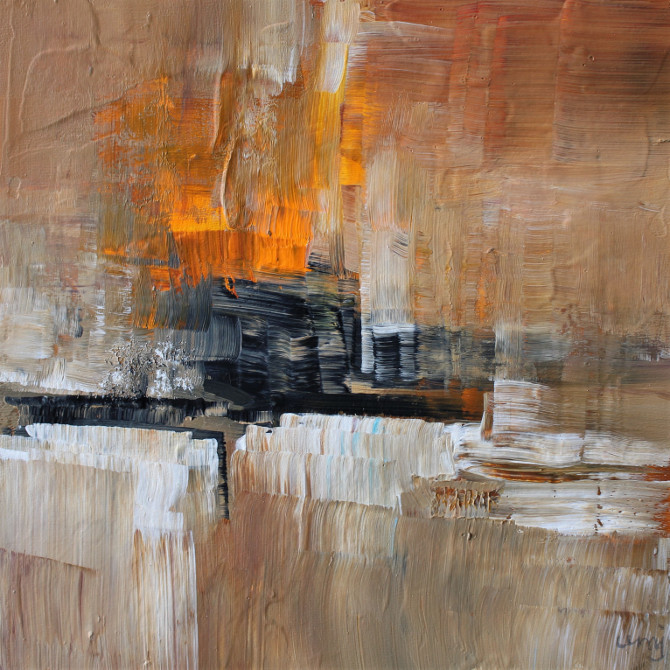 Ulla usually uses acrylic paint "because it dries quickly and you can paint over with several layers. I do small paintings (15x15cm or 20x20cm) on canvas or on a board, while larger works are always on canvas."
Ulla prepares her surface an uneven layer of white primer "so that it becomes a structure. Once the foundation is properly dry I paint with a wide brush with short, stiff synthetic bristles, rarely cleaning the brush while I work." This allows the colours to mix with one another as she transfers them from palette to canvas or board.
"As I work,  I turn and turn the canvas to look at it from different angles and notice what appears. In addition to the broad brushes, I sometimes also use finer round natural brushes and a thin synthetic brush."
The early stages are the most intuitive for Ulla. "When I start to work, I do not know at all where it will go. Often, it becomes layer upon layer, before the motif emerge," she admits.
Her own frame of mind is part of the adventure. "At first, I'm curious about what's going to happen," she says. "Sometimes I quickly find something that feels interesting and worth exploring and reinforcing, and at others I find that the work feels it reaches a sticky dead end where the colours do not work together and I wonder how to go on. Then something happens and I introduce a shade or shape that makes the whole thing feel harmonious."
The biggest challenge is to know when to stop. "Sometimes I'm sure the painting is done when I finally clean the brush off, and on other occasions I need to let the painting be for a while so I can study the work when it's dried and make a choice. Maybe it will stay as it is or maybe I will change all or part of the painting."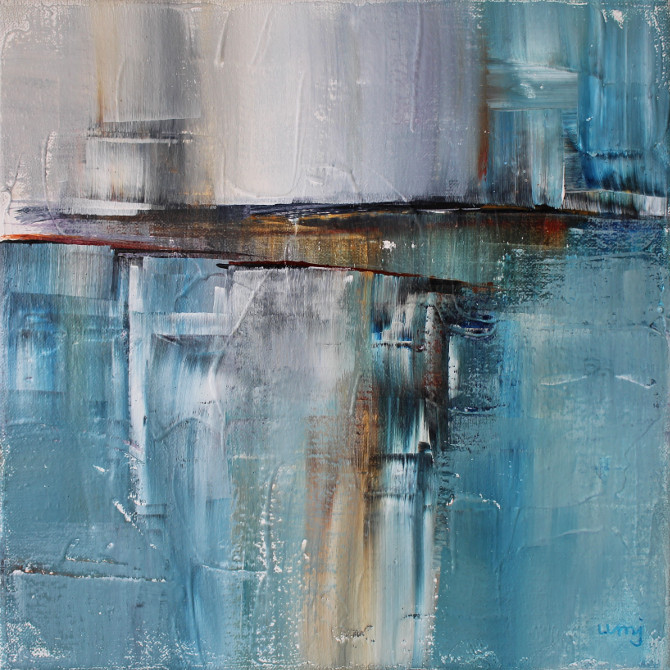 Ulla lives on the Swedish west coast, which influences her artwork. "I often walk and enjoy nature and sea," she comments. "It is reflected in my art and I also find inspiration in the environments and pictures I come into contact with online and in books."
For Ulla the finished artwork is only the first stage. "What I want to communicate with my paintings is the beginning of a story that can grow and blossom in the viewer's mind," she says. "It's wonderful to hear people tell me about the different things they see in one of my abstract paintings. I'm also happy every time I hear that my work has prompted someone to feel inspired to create something of their own."
Find more of Ulla's work at the following: umjart; oneartworkeveryday; instagram.com/umj.art; facebook.com/umj.art
Are you an artist or do you know an artist who would like to be showcased on SkyLightRain.com? Get in touch at judydarley (at) iCloud.com. I'm also happy to receive reviews of books, art, theatre and film. To submit or suggest a review, please send an email to judydarley (at) iCloud.com.