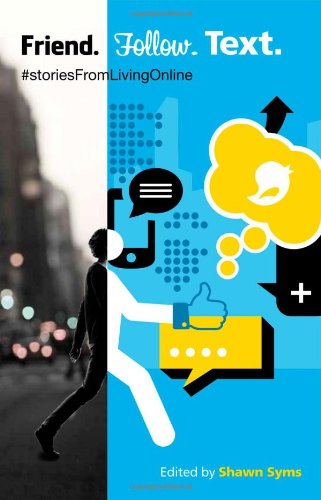 Earlier this year I had an idea for a story that was prompted by something I saw on Pinterest. Like most writers I know, I spend an inordinate amount of time dabbling on social media sites, giving my brain a rest while trying to untangle that next thorny sentence, plotline or conundrum.
What I saw was a photograph of an owl. Except it wasn't an owl. It was a cup of milky coffee that someone had dropped two Hula Hoops into. The salt in the crisps and the crisp potato rings created the illusion of an owl's face.
I loved it, and thought about who I should share it with.
Weirdly enough, a fictional, half-formed character I'd been carrying around for a while, came to mind as the person who would be most glad to see this.
And so the character consolidated, and the story began.
Shortly afterwards I saw a call for submissions from a anthology seeking tales inspired by social media. Editor and writer Shawn Syms was inviting submissions of stories inspired and about all kinds of social media channels for Friend. Follow. Text. #StoriesFromLivingOnline. It seemed too good a chance to miss.
I sent over my tale, called Coffee Owl, and it was selected for inclusion. Very exciting, but even more pleasing, it was being published by prestigious Canadian literary imprint Enfield & Wizenty. My story was only one of two by British writers published in the anthology, and only one of three by none Canadians.
Proud? Me? Just a little. #understatement!
So now Friend. Follow. Text. #StoriesFromLivingOnline is finally out, and is a thing of beauty. You can buy it on Amazon and find out more on the FriendFollowText website.