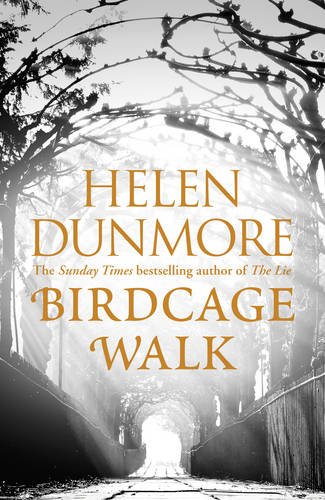 Helen Dunmore will be sorely missed by her readers, and by the writing community. She was an expert in writing richly layered narratives in which the past gains a pulse and history breathes.
In Birdcage Walk she explores a particular period of unrest, the time of the French Revolution, and the uneasiness this upheaval nurtures in England. More than that though, she narrows the focus to a particular couple in Bristol, property developer Diner and his young wife, Lizzie.
In a beautifully written scene full of enticing textures, we go with Lizzie to meet a seamstress who has made a dress for Diner's former wife, a French woman named Lucie. Through this encounter, sliver of ice is inserted into Lizzie's understanding of her husband, through the dress his first wife never had the chance to wear.
"The dress was as tall as I was and the silk rippled as it might ripple when its wearer walked in it. The grey was very light, almost silvery in colour."
The seamstress tries to persuade Lizzie to have the dress altered to fit her, but Lizzie is unnerved by the idea: this is a dress that had been fitted to Lucie, a woman she knows almost nothing about, other than that her husband adored her, and that she is dead.
"'A tuck here and there. Your arms are longer than hers. I can let it out, or inset a lace cuff…' Her fingers were coming after me, prodding me as she measured me by touch. I pulled myself free."
The intrusiveness of the woman's actions, coupled with the subtle evocation of Lucie's presence in that very room three years before is almost suffocating. More unsettling than that is the realisation that Lucie had this special dress made for a particular occasion, yet had never collected it, despite having paid.
"'The dress was ready for her by the Wednesday. I would have sent it round but I had no direction for her. I expected her all that day and the next but she never came.'"
Diner has told Lizzie that Lucie died while visiting family in France, but Lizzie can't shake the feeling that to have left so abruptly, forgetting her dress and missing the engagement she'd had it made for, the pair must have quarrelled.
For who could possibly abandon such a dress otherwise?
The sensuality of that gown and its silk imbues the page as Lizzie reaches out to stroke it. "It sent a shiver through my flesh. How soft it was. The sheen was like the bloom on grapes, which might be rubbed away with careless handling." These carefully chosen words seem to me to carry the faintest suggestion of a threat. "Lucie had touched it too, like this. She had thought of how she would wear it and be beautiful in it. We were not alike, because I would never wear such a dress. For the first time I felt no jealousy towards her. She had died instead and been put away six feet deep in the French soil."
Birdcage Walk by Helen Dunmore is published by Hutchinson, an imprint of Penguin Random House, and is available to buy from Amazon.
What are you reading? Impressed by a particular scene? I'd love to know. I'm always happy to receive reviews and comments on books, art, theatre and film. Please send an email to Judy(at)socketcreative.com.