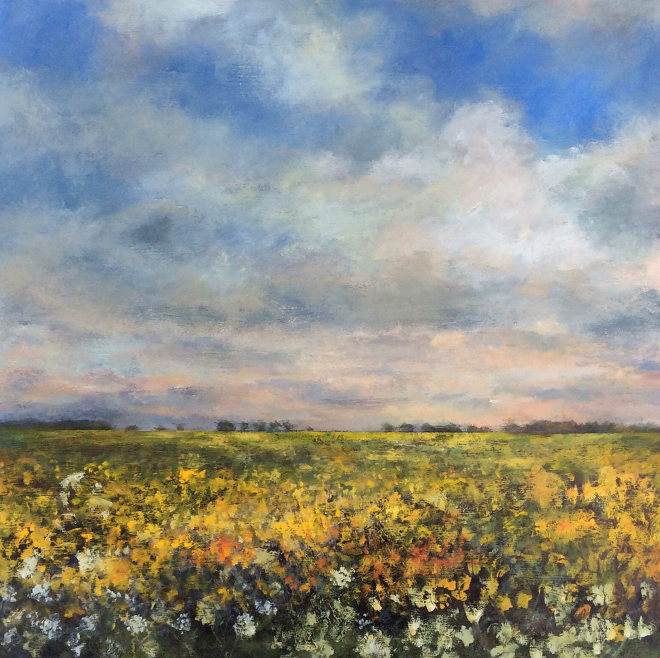 The painting shown here is Signs of Summer, and depicts a scene of rural England I'm instantly drawn to, with a familiarity that's irresistible. I love the sense of energy in it – you can feel the breeze racing the clouds along and casting their shadows fleetingly over the sunlit land.
For Molly Garnier, the artist of this painting, capturing views like this is second-nature. "I loved art from a very young age, especially painting," she says. "It was my favourite subject at school and I was extremely lucky to have a very good art department and access to all materials at school."
She vividly recalls going to see some huge Jenny Saville paintings when she was 17. "I remember thinking that was what I wanted to do. I wanted to create paintings that had an impact and struck a chord with people's emotions and thoughts."
Molly graduated from Edinburgh College of Art, where her primary subject was painting the female nude.
"It wasn't until five years later when I moved back to Norfolk with my husband that I started painting the landscape," she says. "I remember being totally amazed by the huge skies that Norfolk has and the magical beauty on my doorstep. I love trying to recreate an atmosphere and reflect how it feels to be in that place at that chosen time."
Long country and coastline walks are an essential part of this process. "I usually take my camera and sketch book," she says. "I try to add small pockets of detail and sharp focus and play with the ethereal quality of the light."
Her preferred material is oil colour. "I use some large nylon brushes and then small fine line brushes for detail," she says. "I always paint on wood that I have primed. I love the very fine grain of the wood and the way you can see brushstrokes and rub back."
She continues to paint nudes as well. "I did life drawing at Art College and studied the masters such as Caravaggio and Degas," she says. "I went on to do my degree show about the impression of voyeurism and looking upon an intimate nude scene. I love the skin tones and the way the skin can seem to glow."
Molly says that unless she picks up a paintbrush during a day, she doesn't feel quite herself. "Painting makes me feel complete – it's my therapy," she explains. "I paint a lot of commissions, mainly of a chosen landscape that's personal to the client and I really love seeing people's faces when they receive the painting."
She adds: "I've been extremely lucky to exhibit in over 80 exhibitions and sell a vast number of works that hang in people's houses. It makes me very happy to know that my work has created an impression on someone."
Molly exhibits regularly at Lime Tree Galleries in Bristol and Long Melford. She's represented on the online Affordable Art Fair site, and is  an artist at The Gallery in Norwich and Cromer.
Find out more at mollygarnier.co.uk.
Are you an artist or do you know an artist who would like to be showcased on SkyLightRain.com? Get in touch at judy(at)socketcreative.com.