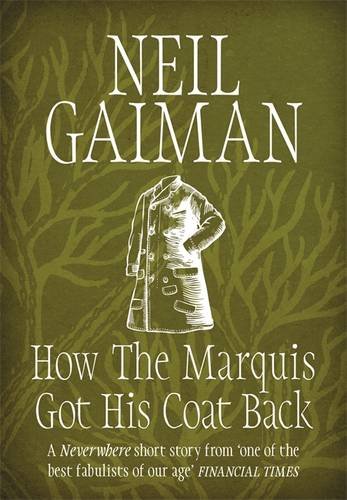 I found this small, self-contained, beautifully presented little book in one of the immense and rambling biblio-temples of Hay and Wye. I read the first page, then put it back, whereupon it leapt from the shelf and prostrated itself at my feet.
Quite frankly, who was I to refuse? It was the perfect experience to start my journey into the world of Gaiman's Neverwhere.
As the story begins, the Marquis is chained to a pole in a room that is slowly filling with water. He is also still recovering from a slit throat, and death, as well as the loss of his beloved coat "the colour of a wet street at night."
Gaiman's power lies in his ability to thrust you so deeply and so fast into a tale that its landscape becomes your own. In this case, we're in a London as seen through a twisted, tarnished mirror, where Mushroom People are less feared than the Shepherds of Shepherds Bush, and there's an actual Elephant at the Castle. A Floating Market drifts from notable location to notable location – we first encounter it in the halls of the Tate Gallery, with the food court in the Pre-Raphaelite Room.
Entranced yet?
It's a dizzying ride of a tale, full of treachery, desire, and flocks of folks whose greatest yearning is not to be alone.
There's something truly special about a short story bound in book form – a complete reading experience in only a few thousand words. This treatment puts immense pressure on the tale itself. It needs to be strong enough to stand solo, to earn that slim, stand-alone space on a shelf (even if it does have a tendency to throw itself at your feet). There needs to be enough energy writhing on the pages to consume, be it only for a brief time. The reader must emerge reeling slightly, satisfied by an excellent tale impeccably told. In short (pun intended), they should feel they've read an entire novel, simply in a very condensed and efficient form.
In How The Marquis Got His Coat Back, Gaiman achieves all of that and more. I propose a new genre, of which this mini masterpiece can be counted as one of the first – flash novels. What do you think?