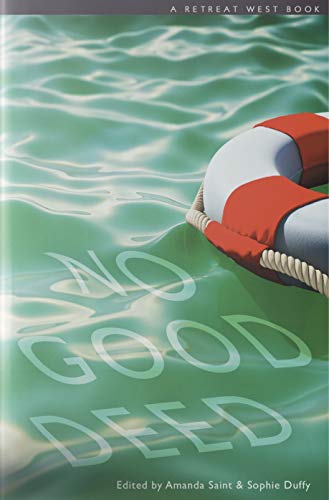 Unexpected gems abound in Retreat West's 2019 Charity Anthology. You'll unearth them like lost ancient treasures by  roadsides where characters dreamt up by an assortment of outstandingly original writers immerse themselves in stories of generous acts, for the most part committed for no better reason than to alleviate someone's anxiety or improve a slim chance of a better life.
In the case of the latter, it's not only humans on their way to hopefully improved circumstances. Johanna Robinson's exquisitely wistful Bufo Bufo juxtaposes an ailing father with a communal project to help toads cross a road. "A toad stirs next to my foot, and I crouch and reach. I'm careful to hold it and not-hold it. It's a new sense, to grip but not squeeze. Not too hard; not too soft. (…) Body soft but bony and skin glowing like topaz. Dangling legs every now and again pumping the air, like an electrical fault."
Climbing Wall by Rosie Garland offers an askance view of what happens when we only take care of others and forget to look after ourselves, while in Seedlings by W.T. Paterson, a child's belief converts a father's lie into a startling truth.
"'The first language a child learns is story,' Navi said. 'The second language is games, things like risk/reward, probability and chance, and what if. Their third language, which is spoken, becomes their native tongue.'"
A Longing For Clouds by Amanda Huggins is redolent with aromas that weave through the passages, evoking the rich, sensual squalor of heat, from "the pungent scent of overripe mangoes" to "sandalwood on warm skin". Huggins' story is a masterclass in engaging the senses, as she evokes scenes vivid with jewel colours, textures and flavours, overlaid with a yearning nostalgia.
"The only sound she could hear was the faint tinkle of the tiny bells on the women's bracelets and ankle chains. The noise reminded Maggie of the dress she wore to Deepak's wedding; cerulean blue with bells around the hem. It conjured the warmth of the soft Jaipur dusk; the air heavy with incense and sandalwood attar, the gate adorned with flowers. Bright saris, silk scarves billowing like jewel-bright parachutes. The bride, nervous and pale, beautifully gift-wrapped in red and gold."
Thought-provoking lines shine throughout the anthology, often revealing a wealth of backstory in only a few, carefully chosen words. In Blue Swing by Matty Bannond, it's the memory of a father "who was always there but usually facing the wrong way", while in Dancing Crimson by Claire Hinchliffe, we encounter the zigzagging narrative of a woman, Miranda, who we begin to decipher through her simple yet poetic description of a common kitchen implement: "There's a strange silver bowl covered in tiny holes, like rain and sprinkles and Blackpool."
The breadth and variety of the stories is at times startling, with a focus that zooms into the minutiae of everyday lives before swooping outwards to carry us thousands of miles across our planet to concentrate on another life, another viewpoint and another example of empathy.
In many cases, the theme of 'Help' is the only connecting thread among these compact, heartfelt, and occasionally surreal stories. But what a strong thread that is, reminding us that regardless of our protagonists' preoccupations and concerns, the underlying characteristic they share is humanity and the desire, however confused or grudging, to reach out and make a positive difference. An uplifting read for our times.
Sales from No Good Deed raise funds for the Indigo Volunteers charity. No Good Deed, edited by Amanda Saint and Sophie Duffy, is available to buy here.
Confession: My story What We Talk About When We Talk About Owls is included in this anthology.