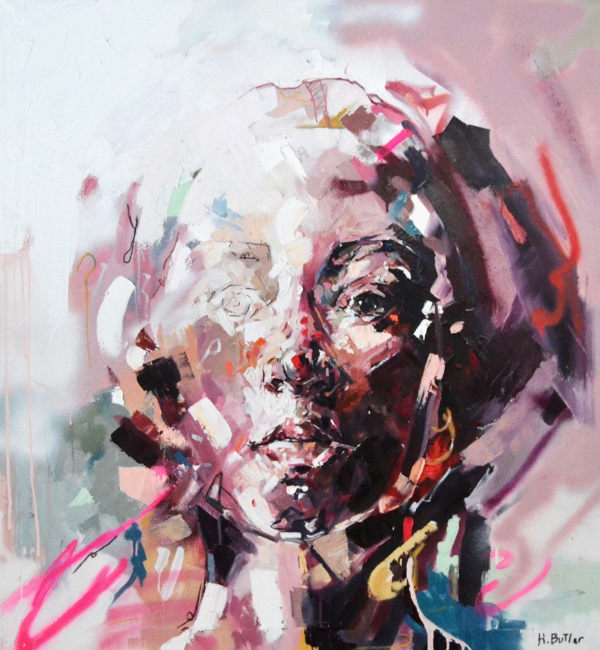 Vigorous brushstrokes, spray paint and mixed media give Hatty Butler's portraits an uncommon vitality. They have statements to make and personalities to exude, and little time or patience for the uncertain viewer.
"I'm drawn to painting people because the idea of representing someone in a new form fascinates me," says Hatty, who studied BA Hons Fine Art at Bath Spa University. "I love creating an image of someone and bringing it into a whole new dimension, giving the individual a new life. The concept of bringing a likeness of the person the painting yet adding a contemporary, energetic aspect is, for me, hugely exciting and inspiring."
The scale of the pieces is immense: it's as though their fizzing force of character has transformed them into giants.
"The energies and emotions I aim to capture of those just under the surface, those that we may try and hide in day to day life," Hatty says. "It's all about those feelings of vulnerability and a stripped back version of our existence."
She adds: "I am also passionate about portraying individuals that may be overlooked or criticised by society for being different. We live in a society where the abnormal is sometimes laughed at and my aim is to alter these outdated views. Art can be the most innovative and compelling means of providing change within our society. I challenge the viewer, encouraging them to look deeper into the painting than just the portrait itself, to raise internal issues and try to comprehend them."
Hatty's own mood shifts drastically while she is painting. "At the start of creating a new piece I feel a mixture of excitement for the unknown, yet also apprehensive how it will turn out," she admits. "I never plan ahead what direction the piece will take – it grows and evolves as time goes on. I love the freedom of adding pastel and spray paint once the finer details have been completed. It is a liberating and fulfilling experience."
She's become an expert at melding the observed and invented in her work.
"I tend to makes initial sketches from life and then work from a series of photographs," Hatty says. "A lot comes from my imagination too – my work is a representation of the subjects inner being, I only focus slightly on the external likeness. For me it is more about externalising the internal."
To do this, Hatty needs to set aside her own immediate feelings. "That's the greatest challenge of trying to represent the internal through painting the external – I need to be able to be honest and not portray my own internal emotions," she says. "The work needs to represent the characteristics of the subject initially."
Being an artist, Hatty says, offers a wonderful sense of freedom. "To live a creative life is such a special thing and while it comes with its struggles I wouldn't have it any other way," she says. "I relish having the freedom to express myself and spend every day doing something that I love. I love what I do, creating things that did not exist before, that are unique and that touch other people. As an artist, I see the beauty in things that are often overlooked. Without art the world could be a very boring place. It's so important that we take a moment to appreciate what's around us."
To see more of Hatty's work, visit www.hattybutler.com, and look out for news of upcoming exhibitions.
Are you an artist or do you know an artist who would like to be showcased on SkyLightRain.com? Get in touch at judydarley (at) iCloud.com. I'm also happy to receive reviews of books, exhibitions, theatre and film. To submit or suggest a review, please send an email to judydarley (at) iCloud.com.
SaveSave
SaveSave