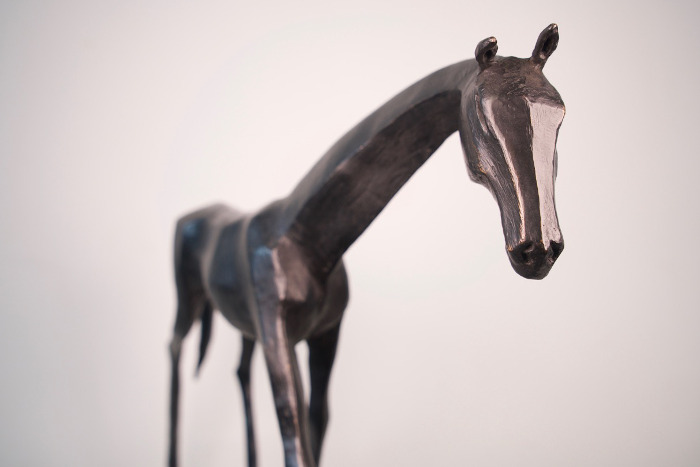 An artwork that cries out to be caressed is a potent object. Sculptor Johannes Nielsen appears not only to understand this power, but to harness it, with sculptures that all but shiver with a desire for a human hand. His latest works are sleek and solid, yet with a suggestion of belonging to dreams, and even in their stillness they suggest a vigour that's deeply alluring.
And yet, in the opinion of Johannes, these works are all about space.
"In my art there is no real story to be revealed or statement to be told," he says. "It's more Iike I want to create a silent space for rest and relaxation. In that space I believe we can get in touch with our own inner voice that may communicate something much more of value that I ever can express through my art."
Born in 1979 in Falkenberg, Sweden, Johannes graduated in Fine Arts from the Lunds Art School in 2003 and worked as an artistic assistant in Dublin before returning to Sweden in 2007. Currently, he lives and works in Beijing.
His motivation to seek calm through his work stems from within. "I have a strong need for clarity and to understand things, often at the beginning I have a question in the back of my mind, then, throughout the creative process I find answers and solutions," he says. "And I find a way to communicate that without saying anything. Later In the result, I have all of that recorded in to my sculpture. Finally, when I look at my own creation it reminds me of my inner discoveries and the journey during that time."
His words make sense of the energy his figures and animals exude. The process of creation allows Johannes to empty his own emotions, and so it's perhaps only natural that his sculptures resonate with the buzz of unspoken emotion. Despite this, the pieces seem open to welcoming more – to soak in human anxiety and replace it with quiet.
Contrary to the perfection of the completed sculptures, mistakes are a crucial part of Johannes' methodology. "My creative process is often about giving myself permission to fail," he confesses. "For each finished sculpture there are several failures behind it. I keep trying and trying, modeling and carving in the sculpture: sometimes it crashes, other times it fails. At the end I try to save the best accidents and throw out the bad ones. And often the original idea and the finished result are two completely different pieces of art."
He adds: "I rarely have a previous image or a vision for a new piece of art. Often I only know how large I want the finished sculpture to be, and then I see my creative process as a way to sketch and daydream. It's then I feel there can be magic moment captured in the result."
Johannes believes he is growing ever closer to his creative goals. "In general I feel more and more happy for each new pieces of art I create, I feel my recent work hold more and more of my own language and truth."
Johannes describes his motivation as the urge for "a finished piece of art (to) somehow reveal an timeless experience. One way I do that is by sourcing my inspiration both from classical as well as contemporary art, from eastern as well as western culture. I also like to work in bronze for this reason; it's a timeless material that only becomes more beautiful as it changes with the passing of time and the touch of people's hands."
There. I knew it. Art created to be touched.
Find more of Johannes work at DegreeArt.com.