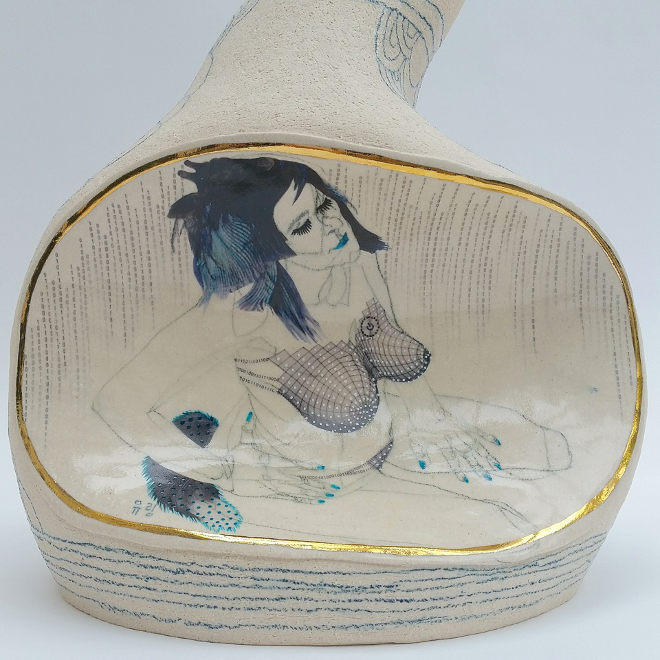 One of my favourite artists-to-watch, the brilliant Yurim Gough, is having something of a busy year. Having just finished exhibiting in The RWA's Drawn exhibition in Bristol, she's also been selected to show works at the Flux Exhibition in London this July.
FLUX exhibition is on at Chelsea College of Arts, London, from July 12-16th July 2017.
"The ceramic pieces which I will be exhibiting at Flux are much larger than any I've created before, but follow on in development from the bowls I've made previously," Yurim explains. "I had the idea that by setting the bowls in relief into a much larger vase, I could display more than one of my individual as part of the same piece."
It's a unique method, bringing together Yurim's beautiful, provocative artworks into tangible series. "It means that I can have a theme for each piece."
Her first work in the series is a vase with a single concave face in the side, "like a bowl set into it." The next in the series has two faces, and three and so on up to the sixth piece, which has six faces (would have loved the surprise here of seven faces, but that's just my contrary side). "The pieces with one, three, four and six faces have been completed and will be exhibited," Yurim says.
Each vase is a study in compare and contrast, with several opposing and complimentary opposites, Yurim tells me, "such the inverted faces and the pointed tops of the vases, like male and female, yin and yang."
The first piece, pictured directly above, is titled Birth. "It has one face, showing unity, the sperm and the egg."
The second piece, shown in the first tow images in this post, is Binary, and is shaped into two concave breasts, or buttocks, with the artwork highlighting these feminine body parts so hyper-sensualised by modern ideals of beauty and fashion.
The fourth work, Elements, offers Yurim's take on water, fire, wind and mother earth, while the sixth vase, Loves, reveals six different kinds of love.
"I began adding colour to my work at the end of 2015, and found this enabled me to take a new direction with my art," says Yurim. "When I began carrying out my life drawings on the ceramics, I saw that the pictures in it prompted me to think about the shapes of the human body and how these reflect on the potential of our lives."
To explore this idea further, Yurim went beyond her life drawings to sample and blend in images sourced from the internet "to bring the stories I imagined to life."
It's an exciting project set to stir intrigue and recognition in viewers to the show. See them for yourself at FLUX exhibition from July 12-16th July 2017, at Chelsea College of Arts, London.
Find full details at fluxexhibition.com and yurimgough.com.
Are you an artist or do you know an artist who would like to be showcased on SkyLightRain.com? Get in touch at judy(at)socketcreative.com.