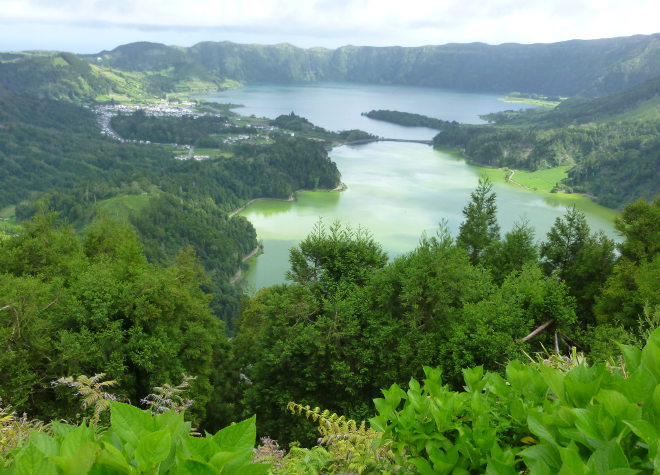 Over the coming weeks, I'll share a few insights into the stories that make up my collection Sky Light Rain. I'll explore them in the order in which they appear in the book. My sixth story in the collection is 'Two Pools of Water'.
As you may have noticed, I have a passion for myths and fairytales. This story is inspired by a local legend of a princess and lowly shepherd I was told while visiting Sao Miguel, one of the Azores islands.
My tour guide took me to a ruined hotel to take in views of Sete Cidades, the twin blue and green lakes. The stark contrast between the rotting building and the extraordinary contrasting pools struck a chord with me. It became the prompt for a story about two sisters, the elder of which, Estella, is trying to protect her younger sibling from the adventures she craves.
Initially I was intrigued by how different the two sisters seemed, but discovered as I wrote that Estella, too, once yearned for escape, and learnt to quell her unquiet nature. In this way, the girls mirror the two pools that appear so unalike, but are far more similar than you might suspect beneath the surface. The question is whether the younger sister will listen to Estella, or instead follow their mother's example in seeking something more.
An earlier version of this tale was published by Dear Damsels.
The tale begins:
The hotel has stood empty for seven years, or eight. In the humid island air, lichens and moulds bloom along the balustrades. Almost every valuable item, from linens to sinks, has been stripped out by creditors. The carpet remains – squelching under our sneakers. In one en-suite a claw-footed bath still stands; its curve of porcelain laced with grime.
My sister Estella leads me to a balcony. The twin lakes show beyond, half-shrouded in cloud. With the sky overcast, the green and blue are harder to see.
Discover the inspirations behind my story 'Untrue Blue'.
Discover the inspirations behind my story 'Weaving Wings'.
Discover the inspirations behind my story 'Woman and Birds'.
Discover the inspirations behind my story 'Shaped from Clay'.
Discover the inspirations behind my story 'Knotted Rope'.
Discover the inspiration behind my story 'Apollo's Offspring'.
Sky Light Rain is published by Valley Press and is available to purchase here.