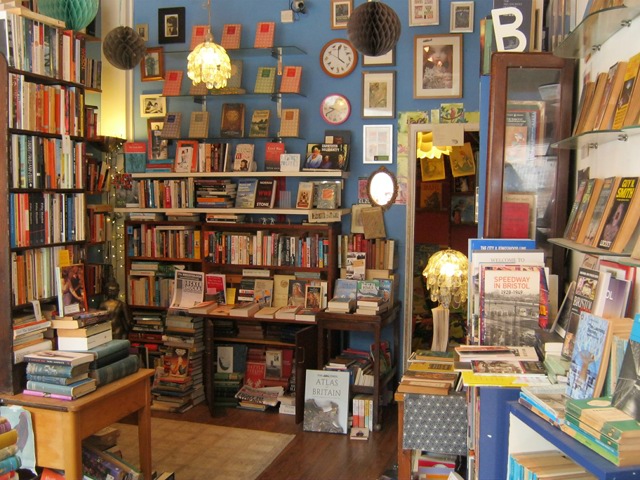 Independent bookshops seem few and far between these days, but if you know where to look and what to look for, you'll discover they're far from extinct.One of the finest I know totters on a sweep of road just above Bristol's Christmas Steps. Currently sans signage, it's easy to spot thanks to the heaps of books piled inside and out.
This is Bloom & Curll, owned and run by Jason, though occasionally 'babysat' by his mum (her words). What a treasure trove this is. Modern classics nestle alongside works be emerging local authors, shiny new volumes next to previously own and beloved texts.
Lanterns hang from the ceiling, toy trains sit ready on tracks (in the adult department, no less), and clocks show a random assortment of times, as though to remind you that inside this shop the only times that truly exist are those mentioned in the passages of the books.
And should you need sustenance to fuel you through your literary treasure hunt, there's almost always a plate of Jaffa cakes near the till.
My short story collection Remember Me To The Bees recently took up residence at Bloom & Curll, and I find myself both proud, and a little jealous that it gets to spend its days there, waiting to be discovered by some reader seeking a few short stories to transport them in the way Bloom & Curll does me.
Bloom & Curll, 74 Colston Street, BS1 5BB Bristol, United Kingdom; tel: 07786 960941.