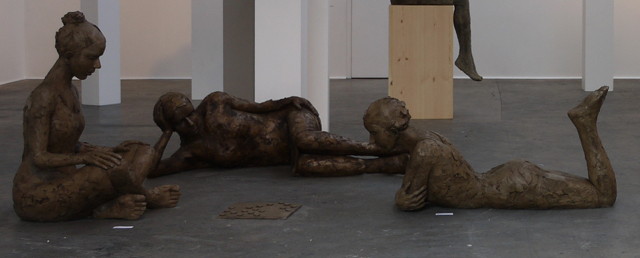 This piece of flash fiction by Judy Darley was originally published in Connections: An Anthology from Paragram and is posted here with the editor's permission. The tale was inspired by a trio of sculptures by the artist Carol Peace, who supplied the images that illustrate this post.
I also want to share the news that Inkspill Magazine are planning to publish my short story 'Buttonmaker' in their next issue. which is due out later this month. Yay!
Another of my stories, 'On The Ledge' will be published by Fiction 365 in a couple of months' time, following in the footsteps of my tale 'Rock Thoughts'.
Draughts by Judy Darley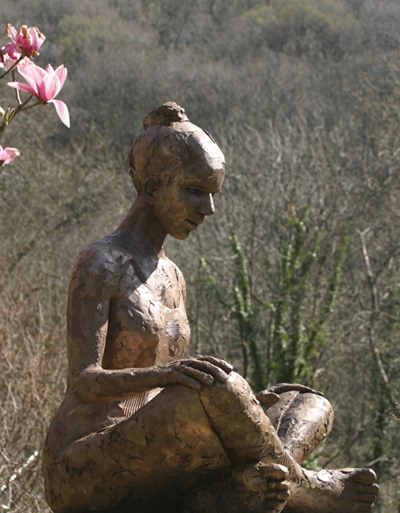 The hot afternoon sun is making Chloe drowsy. She blinks, focusing her eyes on the path of a bumblebee drifting from one clover bloom to another. Honeysuckle and chlorine mingle in the air. A faint trickle of sweat slowly wriggles its way from her scalp to the space between her shoulder blades. Her book is still lying on the other side of the lawn in the shade her twin cousins dragged her from when they cast her in the role of umpire.
The game of draughts is the third challenge of the day, following a venomous tennis match, won by Amandine, and a swimming race won by Blake. She can see the pool water drying on their bronzed, over-privileged limbs and remembers something her mother once said, about how, the higher up society you go, the thinner the veneer of civilisation. Like oxygen on a mountain peak, stretched brittle and insubstantial over the bloodlust.
"You're cheating!" Amandine's voice rings out. "Chloe, he's cheating! He put it in his mouth!"
Chloe sighs and rouses herself. "Blake, is it true? Open your mouth."
Obligingly he does so, sticking out his tongue, the disk balanced on it like a rosy indigestion tablet. His eyes are laughing as he plucks the draught piece between finger and thumb, dropping it onto the board like something disdainful – he knows full well that his sister won't touch it now it's tainted with his spittle.
"Game to Amandine," Chloe decides, and the cousins erupt into shrieks of glee and outrage.
Next on the agenda is rhetoric. Chloe feels her skin tighten with dread, imagining the barbed words waiting to be unfurled and flung.