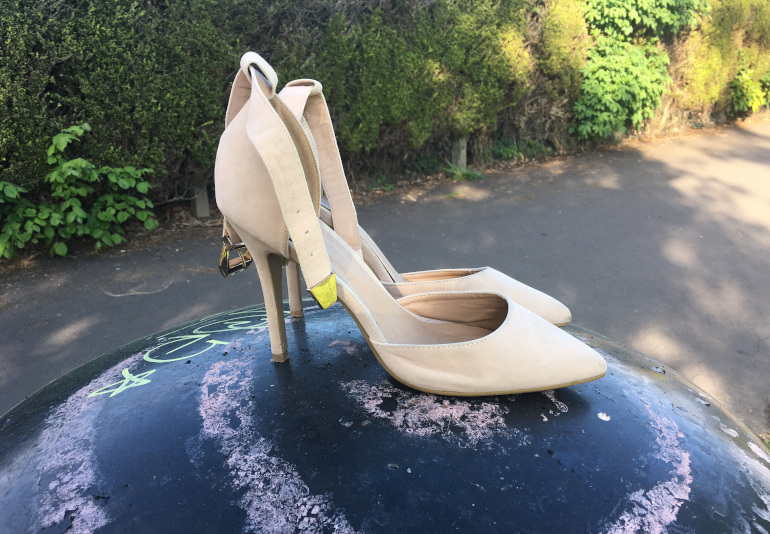 Author Suzanna Stanbury wrote the following chilling tale in response to Pandemic prompt – stilettos.
Suzanna's story provides an insight into the myriad conflicting emotional anxieties arising from lockdown, and a beautifully written answer to the question of how these heels ended up on top of a park rubbish bin.
If you write or create something of your own inspired by Pandemic prompt – stilettos, please send an email to judydarley (at) iCloud.com to let me know. With your permission, I may publish it on SkyLightRain.com.
The Pinnacle of her Existence by Suzanna Stanbury
I'd been planning my wedding since I was five years old. I'd always known since we visited the pearl farm on the Isle of Wight, my wedding colours would be oyster and pearl. I'd had my entire life to work out when to get married. I would be a June bride. On my special day everything would be exactly the way I had always imagined it would be, my own creation of perfection. I had a folder and had been sticking in cuttings from magazines all the way through the passage of school life. On the cover of the folder were pictures of pearls, thousands of gleaming spheres.
And the great day grew ever closer. I'd picked the date.
I couldn't believe it when the wedding venue emailed me to tell me because of the pandemic they would be closed until at least Christmas, all bookings for weddings were cancelled for the foreseeable future. It was a nightmare.
Then my wedding cake lady messaged me on Facebook, she couldn't even think about making cakes until after the danger of infection was past. She had emphysema, had to shield herself. My beautiful cake. Oyster-coloured icing spread over five tiers. Little sugar shells, with edible, iridescent pearls inside them. The picture in my mind faded leaving a bitter taste where the dream of vanilla sponge should have been.
My dress was being handmade. The dressmaker had measured me, warned me on pain of death, she said, not to lose or gain any weight. I must remain exactly as I was. She had been adding the final details, sending me photos as each stage progressed. And then the photos stopped arriving. I texted her, no reply. I kept on texting, getting ever more panicky in case something had happened to my gorgeous satin dress and she was too ashamed to tell me she had sliced right through the bodice by mistake when she went to snip off a hanging silver thread, or something just as awful.
It was Sasha, one of my bridesmaids, who told me that the dressmaker, Paula, was ill. Sasha said she knew that because Paula was one of her mum's friends. Paula was ill with the virus, in hospital, on a ventilator, at death's door, Sasha said. I imagined my dress imprisoned in Paula's locked shop, trapped, pinned onto the dressmaker's dummy, almost finished, nearly ready for me to wear, waiting to have its moment of glory.
I couldn't believe it. All my dreams were falling down the mountain I had built. My entire life planning the perfect wedding, a day like none other I would ever live. It would be the pinnacle of my existence.
I was Zooming my bridesmaids every day, I had to keep them onside. It may still be okay. This pandemic couldn't go on for much longer. Could it? All of the things I had ordered, most of them paid for, were enshrined in shops, in the homes of designers. Even the wedding rings were being handmade, Welsh gold, Clogau. My ring was white gold, with a single pearl set into the band. All that gorgeousness was virtual, I had one thing that was real.
In the wardrobe, on the top shelf were stored my wedding shoes. I'd received them from my parents for my twenty-first birthday, they cost five hundred pounds. Kid leather in a soft shade of pearl, they had ankle straps and four-inch stiletto heels. I would take the box out of the wardrobe each year on my birthday, no more than that or I feared the delicate leather could become damaged, and on the sixth time that I would remove the shoes, hear the tissue paper rustle as I lifted them – it would be my wedding day and I would wear the exquisite, gleaming shoes.
It wasn't fair, I told my bridesmaids, every day something else was cancelled, it was as if the virus was targeting me, every other bride was allowed to have her day, why was mine torn away from me, my dream rent to shreds. Five faces instead of six stared back at me.
"Where's Sasha?"
They told me in hushed tones, Sasha's grandma had died the night before. She was in a care home, Elmtrees, just off the ring road. Sasha and I went to visit her before Christmas. Sasha had told me her grandma had a pearl ornamental hair comb that could be my 'something borrowed'. I was going to fetch it exactly a week before my wedding. Panic enveloped me, a cold swamping feeling, pressing on my bare arms, raising gooseflesh. I was just about to ask about the pearl comb when I realised they were all staring at me.
Each one of them wearing the same awed expression as if they could guess my thoughts. I shut my mouth again, kept the question inside my head. I could always ask Sasha later, when she felt a bit better, when she was up to Facetiming again. I expected she was busy. Sasha lived with her parents. I was glad I didn't live with my parents. My mother phoned me most days, imparting tales of horror about neighbours' behaviour, breaking lockdown, not wearing masks in the garden, possibly spreading their germs over the fence. I didn't want to hear it. I was fit and healthy. I was young, everyone knew the virus didn't touch the young. We were blessed with strong antibodies; our resistance was mighty.
It occurred to me as I headed off for my daily run, earbuds in place, as I swiftly covered ground, I was the bride denied her wedding. Well, Mr Virus, I shall fight you. I shall have my wedding, there's still time until the grand day dawns. You can push off, Mr Virus, you've done your worst, now go away. Spotify changed tracks to Gloria Gaynor's, I will Survive. I almost laughed out loud. Things were working for me. That is what I needed to do, be mindful, be positive. Fight this virus, see it off.
What everyone else didn't realise was most of this was all in the mind. I didn't know anyone who had had the virus, let alone died from it. And I didn't know anyone who knew anyone who had had it either. A vision of Paula with pins in her mouth as she tacked my bodice onto me popped into my mind, I cancelled the thought. Second-hand information could be fake information. Perhaps all those people dying would have died anyway, and there was no virus, it was other illnesses, different diseases killing more people than usual. Maybe it was the weather, the unusually hot spring we'd been experiencing. The temperature had made everyone ill. Yes! It could be that.
I had a lovely run, the music was perfect, uplifting, I ran in time to the beat – what could be more wonderful than running along listening to your best tunes?
"That run was awesome." I'd left Craig on the sofa, where he'd been for days moaning about man flu. Men! Honestly. Total lightweights. Give men period pain, then they would really have something to harp on about. "Are you listening to me? Babe?" I carefully replaced the earbuds in their shiny white case, turned around.
And it was then I stopped thinking. I went to another place. All my life things had always rolled along oiled tracks, my moments were happy, fortunate, blessed. I had never encountered anything that stopped me, caused me to step out of my happy life, to change my plans – and even if I did, if I ignored it for long enough, somehow it would go away.
*
They phoned me this morning, told me Craig was out of danger, he'd been on a ventilator for twenty-nine days, in ICU for thirty days. I had only seen him through glass. I spent most days in a little park near to the hospital, sitting on a bench, waiting. There was a blackbird who had grown so used to me being there he came right up to my feet, pecking for grubs or something, I wasn't sure what he was after. He had a bright yellow beak, a vivid shade. Under the bushes, the leaves of daffodils fallen in the grass, spread out in fan shapes, drying slowly through shades of green to brown, withering until a strong breeze blew them to oblivion.
The hospital had eased some restrictions, I was allowed to enter, then to stand a little closer, but never to touch.
On my lockscreen was a photo of us, touching cheeks, grinning into the camera lens for a selfie, the wrinkles of his smile contrasting my smooth skin. It didn't matter to either of us the age difference between us. Sometimes I was reminded of it by tiny things, other than that, nothing. A clock tower somewhere struck the hour. I could go and visit now, distantly visit, of course.
"See you tomorrow." The blackbird cocked his head at me, then continued pecking.
I felt different today, seeing Craig on a new ward, not so many wires, fewer tubes, still some medical contraptions keeping him alive, monitoring that he was on the way back. A tiny feeling of relief popped into my head, then left again almost immediately, he still wasn't out of the woods. A doctor, swathed in blue protective gear told me Craig's body would take a long time to recover, he would need to be nurtured when he was discharged, treated with kid gloves, he said.
I looked at our house when I returned home, thinking of things I would need to do to care for Craig, make life more comfortable for him in his painful progress through recovery. Kid gloves. Suddenly I was overcome with emotion, a brutal fury descended, a need to rid myself of what had caused this, the reason for all of this awfulness.
I fetched a carrier bag from the kitchen cupboard, went upstairs, retrieved the expensive shoes from their chic box, unwound them from yards of mauve tissue paper, dumped them into the bag, saw the CO-OP logo bulge out as a stiletto heel stabbed at it from within. I walked up the road, through the gate and into the cemetery, down the main path, and there by the litter bin, I removed the shoes, placed them neatly, side-by-side, on top of the bin. Those shameful, sinful, show-off shoes – remain there for all to see. I looked at them with distaste for a micro-second before turning on my heel, my trainers grinding on the gravel ready to stalk up the path, home.
The end