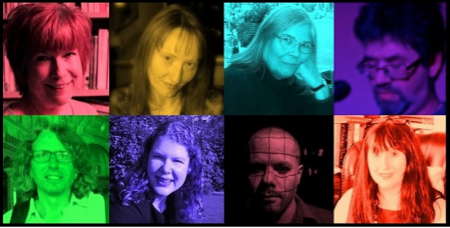 Halloween may have passed, just, but there's still a chance to be creeped out. I'm taking part in a night of eerie readings on Wednesday 06 November at The Thunderbolt's Word of Mouth event.
Word of Mouth is a monthly literary event, and for November Bristol Fiction Writers' Group (that's us, pictured at the top of this post – I'm the blue-tinged one, bottom row, second from the left), will be hijacking it to read tales from our anthology A Dark Imagined Bristol.
Doors open at 7.30am, and I'm going on first (eeps!), reading my short story Untrue Blue. It's a strange story set in and around Bristol's Cabot Tower, as well as in the skies over the city. It's a free event, so why not come along to see what you think of it?