Visiting the Art Institute of Chicago is bound to be a highlight for any art aficionado visiting this extraordinary city. This vast space is teeming with renowned artworks, as well as plenty of less famous gems. From the intriguing Thorne Miniature Rooms to marvels such as Georgia O'Keefe's Sky Above Clouds IV (below), I found myself floating on an excess of wonder.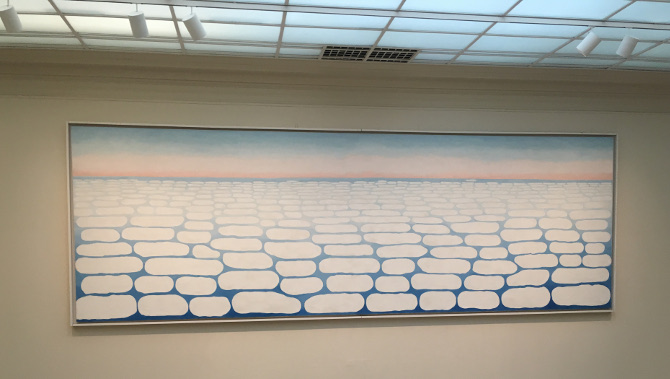 Stairways and soaring corridors led us to the Contemporary Wing, housing an impressive assortment of notable works. Frankly, it was like attending a party attended by an eccentric assortment of heroes. Meeting creations by the likes of Andy Warhol, Jeff Koons, Roy Lichtenstein, Charles Ray, and Damien Hirst made me feel a little starstruck: wide eyed and at a loss for words! I also had a the pleasure of encountering some artists for the first time, including Katharina Frisch, whose 'Woman With Dog' brought to mind happy hours scouring coastal rock pools as a child.
Downstairs I found myself drawn to the implied magic of the miniature rooms conceived by Mrs James Ward Thorne and created, under her guidance, by master craftsmen between 1932 and 1940.
Each represents a home from a particular time and location, with details down to the carpets and knick-knacks summoning up an impression of the lives that might have been lived there. It's entrancing for any lover of art, architecture, history or humanity.
Elsewhere, the halls of Indian, Southeast Asian, Himalayan and Islamic art instilled us with a sense of tranquillity, while the Architecture and Design exhibits inspired is with its grace and practicality.
We were also fortunate to visit when the John Singer Sargent and Chicago's Gilded Age exhibition was on, and to walk among excellent work not only by the artist himself, but by his contemporaries, including Claude Monet.
The scale of these galleries makes it unlikely you'll be able to see every exhibit in a single visit. My advice is to select a few galleries and do them justice. To me the Art Institute of Chicago felt like a portal through time, space and sensibility, with each doorway offering admission to another absorbing world.
Find out more at www.artic.edu.
Discover Bilbao.
Discover Brescia.
Discover Budapest.
Discover Bath.
Discover Barcelona.
Discover Laugharne.
Discover Reyjavik.
Got an inspiring venue, event, challenge, competition or call for submissions you'd like to draw my attention to? Send an email to judydarley(at)iCloud(dot)com.